How small-business issues are shaping politics and policy.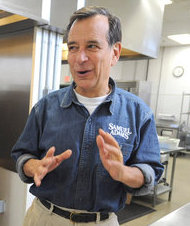 Gretchen Ertl for The New York Times Jim Koch, Boston Beer Company.
One question frequently comes up when The Agenda discusses the recent story about how the employees of Boston Beer Company sometimes spend hours helping small companies tackle the myriad problems of managing and building a business. The question is this: Don't those employees have enough to do in their own jobs? Shouldn't they be solving Boston Beer's problems?
Companies that borrow money through the Brewing the American Dream program, which Boston Beer runs in partnership with a microlender, Accion, are presented with an extraordinary opportunity. They often get media exposure, and Boston Beer goes to some length to provide market opportunities, too. Not only does it sometimes become one of its borrowers' biggest customers, it often works with them to develop new products based on its brews. Carlene O'Garro, for example, incorporated Boston Beer's seasonal Harvest Pumpkin Ale in a pumpkin bread.
Most important, though, is the intensive, hands-on mentoring that Boston Beer employees undertake. As we described in the story, one staff member helped Ms. O'Garro, a nascent entrepreneur, figure out how to price her products for Whole Foods by actually going to Whole Foods and studying the competition. Then that employee, Mike Cramer, wrote a spreadsheet to report his findings. "Mike has spent hours with me," Ms. O'Garro said.
So what exactly is in it for Boston Beer, besides good publicity and possibly good karma? The motives of Jim Koch, founder and chief executive, aren't wholly altruistic. As a law and business school student at Harvard in the 1970s, Mr. Koch wrote a paper arguing that companies that are more socially responsible earn higher profits. "If you're the only person who benefits from your success, you're not going to have very much of it," Mr. Koch said in an interview. "If more people benefit from your success, you're probably going to have more of it."
Plus, he said his employees' often-extensive work with borrowers can have a direct impact on his company as well. "Brewing the American Dream is a way to expose our people to what it's like to be a very small company struggling to survive," he said. "Because that is essentially our situation."
With close to $600 million in sales, Boston Beer is hardly a small business. But its competitors are multinational giants dozens of times larger. "Inside the company, it seems much more stable," he said, "but from the larger picture it's not. We are always on the edge of survival. When you're one percent of the market, dominated by people with global scale, you've got to keep that spirit alive."
All of which raises other interesting questions: At what point is a small business big enough to stop worrying about its own survival? When should it start to give back to its community?
Thoughts?
Article source: http://boss.blogs.nytimes.com/2012/11/26/what-big-companies-get-from-helping-small-companies/?partner=rss&emc=rss