Mr. Berke will travel to Japan this fall in hopes of persuading more companies to hang a shingle at the foot of the Appalachians. "Trade and foreign investment is a big part of Tennessee's portfolio, and it affects many people in our area," he said. "And I don't know exactly what the policies will be."
Advertisement
Continue reading the main story
Pushing to rewrite his predecessors' free-trade approach, Mr. Trump has reopened the North American Free Trade Agreement with Mexico and Canada, threatened tariffs and quotas on steel imports, moved to revise a trade agreement with South Korea and signaled his support of American businesses by declaring a "Made in America" Week. A trade case accusing China of intellectual property violations is also in the works.
At the same time, the president has cited the jobs foreign businesses can bring, announcing at the White House recently that the Taiwanese electronics supplier Foxconn would create at least 3,000 jobs with the help of hefty tax credits at a new plant planned for Wisconsin. And after two Japanese carmakers announced on Friday a joint decision to build an assembly plant, he tweeted: "Toyota Mazda to build a new $1.6B plant here in the U.S.A. and create 4K new American jobs. A great investment in American manufacturing!"
For employers and workers here, though, the labels can be confusing. "There is no such thing as just 'American built' anymore," said Randy Topping, who owns a tractor and equipment dealership in Chattanooga.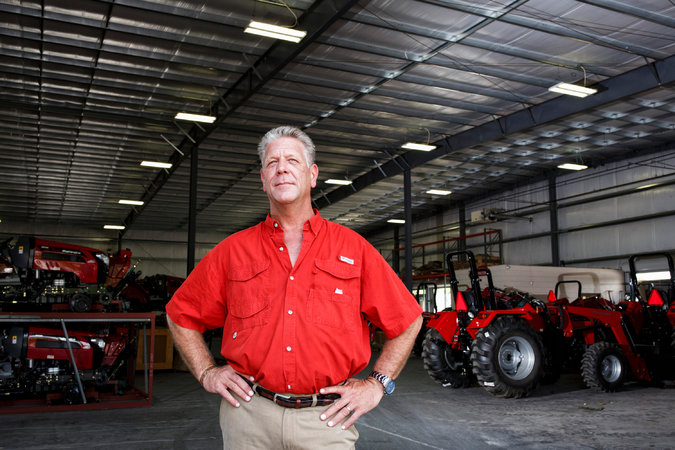 He saw his business explode in 2010, thanks in part to growing sales of vehicles made by the Indian manufacturer Mahindra. Mr. Topping is now teamed up with the company and is president of Southeast Mahindra, where nearly 60 people assemble and distribute small red tractors suited to gentleman farmers.
The parts are made in the United States as well as India, South Korea and Japan. "Everything has foreign content," he said.
Production workers at Southeast Mahindra start at a wage of $12 an hour, eventually earning up to $20 an hour. The competition with rivals, both in the United States and in developing countries, can be brutal, and success is counted in nickels and minutes. Like other Southern states, Tennessee makes a selling point of the scarcity of unions, largely a result of laws exempting workers who don't join from paying the equivalent of dues.
"It's hard work," Mr. Topping acknowledged as the temperature outside neared 97 degrees, making the air in the assembly shed hot and thick. "But this is a close-margin business," he said, explaining why he is not offering more money despite adding a second shift.
Bill Phillips, 57, the production line leader, worked for Mahindra in northern Georgia for eight years before transferring to this plant in 2009. Whether it's a foreign company or not, "it's still a job," said Mr. Phillips, whose shaggy gray mustache hangs on his face like an upside-down U. "I'm working. I'm making a living."
Tennessee, which actively courts firms from abroad, ranks first in the nation in jobs created by foreign-owned companies, according to the State Economic and Community Development Department: 136,000 workers at 931 foreign-based businesses.
Advertisement
Continue reading the main story
In the Chattanooga area, where the unemployment rate dropped to 3.3 percent, foreign companies account for roughly 20,000 jobs, according to a list compiled by the local Chamber of Commerce.
"We love to say, 'Buy American,'" said William B. Kilbride, the chamber's president and chief executive, "but we both know how hard that is."
He pointed to Pilgrim's Pride, a large chicken processing plant in the Southside neighborhood. It employs 1,200 people, and many of the chickens are raised on north Georgia farms, but most of the profits flow back to the majority owner, JBS of Brazil.
"So are you buying American or not?" he asked.
Volkswagen, which made this spot its North American manufacturing headquarters, now employs more than 3,200 people at the plant it opened in 2011. The automaker's presence has attracted other firms, like the Spanish company Gestamp, which manufactures metal automotive components and employs 634 people.
"You can throw a baseball and almost hit the Volkswagen plant," said Corey Jahn, the Gestamp plant director, standing next to powerful cold-stamping machines that press sheets of metal into wheelhouses, door sills and floor plenums. The neighborhood supply chain significantly reduces shipping costs and turnaround times, while an American presence avoids the effect of currency fluctuations on profits.
"We follow our customers throughout the world," Mr. Jahn said.
Japan is the biggest foreign investor, employing 3,000 nearby residents at Japanese companies like Komatsu, Toshiba, Hitachi Metals and Toyota. The Haier Group of China has 1,500 people working at its appliance manufacturing factory. Wacker Polysilicon North America, a German company, employed 650 people full time in its Bradley County plant after investing $2.5 billion — the largest private investment in the state's history. A $150 million expansion will add 50 jobs.
Newsletter Sign Up
Continue reading the main story
Many of the companies have also established apprenticeship, training and internship programs with the local community college and high schools, Mr. Kilbride said.
Foreign businesses seeking to expand their piece of the North American market say they are drawn to Chattanooga's location; its rail, port and interstate highway connections; dependable electric power; supply pipelines; pro-business tax provisions; and trainable work force. Political leaders and the chamber also highlight as incentives the lack of state property and income taxes and the absence of unions.
Advertisement
Continue reading the main story
Still, the antitrade talk currently streaming out of the White House is unsettling.
"That keeps me up at night," said Mary Beth Hudson, vice president of Wacker Polysilicon. "We depend on global trade." Some raw materials, equipment and spare parts come from abroad, she said.
Continue reading the main story
Article source: https://www.nytimes.com/2017/08/06/business/economy/chattanooga-foreign-investment.html?partner=rss&emc=rss