"The Uber electronic platform, whilst innovative, falls within the field of transport: Uber can thus be required to obtain the necessary licenses and authorizations under national law," reads the statement from the Court of Justice of the European Union (ECJ) seen by Reuters.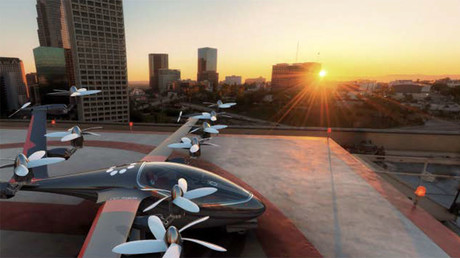 High-flying Uber announces plans to have 'air taxis' in the sky by 2020
The opinion is non-binding, but the court's judges reportedly tend to follow the advisory in most cases. If the ruling is enforced across Europe, Uber will have to provide services under the same local licensing rules and safety regulations as established taxi companies.
The case was initially brought to Barcelona City Court by a group called Elite Taxi. The cabbies urged the court to penalize Uber's operations in Spain, saying the company was engaged in unfair competition as it used unlicensed drivers in its UberPOP service.
Uber no longer operates UberPOP in Spain and plans to wait for a final ruling later this year. The company's spokesman stressed that qualifying Uber as a transportation company would not change the way it is regulated in most EU countries as "that is already the situation today."
However, the ruling could "undermine the much-needed reform of outdated laws which prevent millions of Europeans from accessing a reliable ride at the tap of a button," according to Uber.
The company started operating in Europe five years ago. Uber has repeatedly been challenged in the European courts by established taxi competitors and some EU countries, as it is not bound by strict safety regulations and local licensing.
Uber reintroduced a licensed version of its service in Madrid and Berlin last year, though UberPOP still works in Estonia, Poland, Czech Republic, Norway, Finland, and Switzerland.
Article source: https://www.rt.com/business/387986-uber-transport-service-top-court/?utm_source=rss&utm_medium=rss&utm_campaign=RSS