"You heard it," said David Shamouelian, the owner and C.E.O. of Romeo Juliet Couture. "There was power behind these triplets."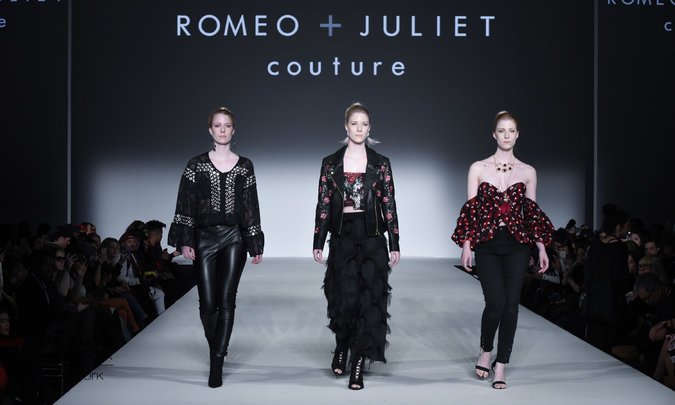 It's not the first time multiple births have graced the fashion world. Identical twins who go by the names Cipriana Quann and TK Wonder appeared in a recent Kenneth Cole advertising campaign. In October the designer Jun Takahashi cast five sets of identical twins to close his show at Paris Fashion Week.
But triplets are rarer than twins, and for the past two years these sisters, 24 and living in the Astoria neighborhood of Queens, have convinced multiple designers, television producers and filmmakers that their showcases will be better with their participation.
They have come down the catwalk for designers including Adrian Alicea and Andre Emery. They have appeared on "Good Morning America." There is reality-show interest, they said. "We aren't allowed to say who just yet," Arianna said with a grin.
In September they plan to introduce their own feminine, but not too girlie, clothing line of denim and trucker jackets, jumpsuits and florals. They have a studio in their three-bedroom apartment, where they photograph themselves and other models and actors for extra pay. They also act and have appeared in a few short films including the popular video for Circa Survive's song "Premonition of the Hex."
Arianna is the stylist and designer, Andrea is the photographer, and Athena is the lead actress. But they almost always market themselves as one.
"There are a lot of pretty blond girls, but there aren't that many triplets," Athena said. "We should use it."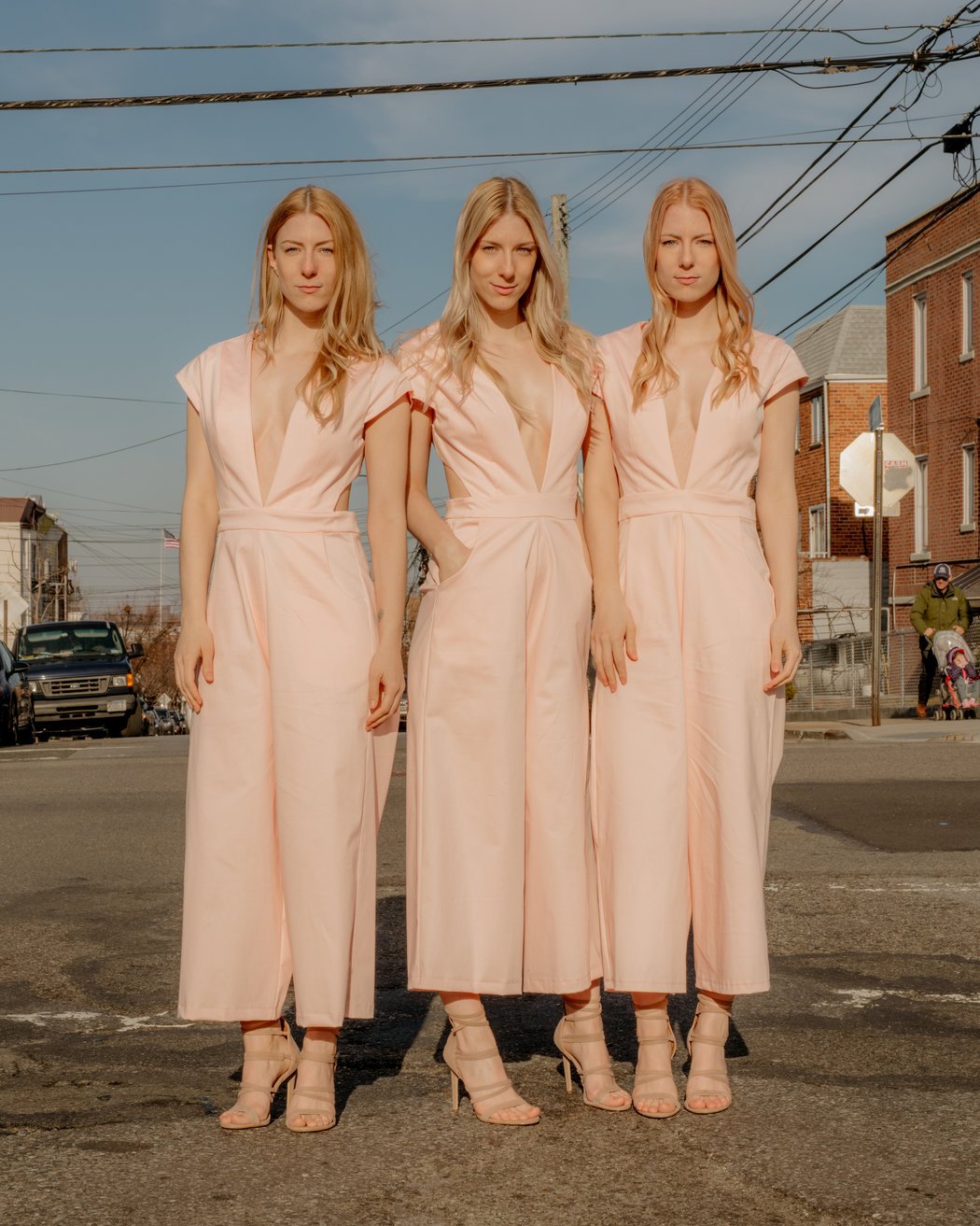 Many multiples try to differentiate themselves as individuals, but for marketing purposes this set is determined to be as identical as possible. If one of them wants a haircut, all must agree to get the same look. "I wanted bangs a couple of months ago, but my sisters told me they didn't, so we couldn't do it," Andrea said. "They saved me."
Advertisement
Continue reading the main story
They don't always have to try that hard. The morning of the Romeo Juliet show they put on matching shoes, leggings and oversize sweaters without consulting one another, they said. The apartment is shared with Andrea's cat, Arianna's cat and Athena's 55-pound dog. "The animals can tell us apart," Athena said. "They know who their parents are."
Since they were young girls, growing up in Hyannis, Mass., the sisters wanted to do things together. At 11 they wore shirts Arianna made out of old pillowcases to school. As seniors, they starred together in "Twelfth Night," with Athena and Arianna cast as Viola and Andrea playing Feste, the singing fool. "Our teacher was so worried about how to give us all lead roles," Andrea said. "He was so relieved when he found out I could sing better than them."
After attending different colleges, study-abroad programs and graduate schools, they all moved to New York City to give modeling — something they had done for fun — a try professionally.
"Other careers were always something we could go back to," Andrea said. "But modeling is something we can only do now. And it's something I can do with my sisters now."
And they have become more value as a threesome.
"We have done shoots with them individually, but the triplets is what makes a difference," Mr. Shamouelian said. (Arianna also works part time as one of his assistant designers.)
"I don't really know if I would have used them if it was just one because I tend to use models that are 5′9 and up," Mr. Emery said. (The Levesques are 5-foot-6.) "But because they are triplets I knew I could be creative with them. I knew people would say, 'Whoa, this is a new trend.'"
The triplets have a long list of bigger designers they want to model for, including Dolce Gabanna and Tom Ford.
Advertisement
Continue reading the main story
But there are downsides to the sisters working together, said Sara Ziff, the founder and executive director of the Model Alliance, a New York City advocacy organization for models.
"Booking triplet models is a very specific choice on the part of the client," she said. "I imagine it might be limiting for the models themselves if they are always sold as a package deal." (The triplets respond by saying that they encourage each other to get big gigs on their own. It will only elevate all of them, they reason.)
Ms. Ziff also worries that the presence of identical-triplet models reinforces a notion in the fashion world that all models should look exactly the same. "It's arresting to see people as carbon copies. With hair and makeup, models are often made to look interchangeable, and their individuality is subsumed by the brand," she said. "Having the same DNA takes that to another level."
Mr. Emery, though, dresses the triplets differently, with one in a robe for his debut, another looking like she was headed to a nightclub. "I want them to have their own individual style and taste," he said.
And the models insist they don't care so long as the clothes fit well and are flattering.
"The only important thing is that we are either all the same or all different," Athena said. "I just don't like it when two people are the same, and I have to be different. We are triplets."
Continue reading the main story
Article source: https://www.nytimes.com/2018/02/13/fashion/levesque-triplets-models-new-york-fashion-week.html?partner=rss&emc=rss