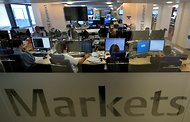 Philippe Wojazer/Reuters
LONDON – Initial public offerings in London have come to a halt, but that has not stopped NYSE Euronext from trying to get in on the action.
The company, which already operates exchanges in New York, Paris and a number of major cities, said on Wednesday that it had signed up the first company to switch its London trading activity from the London Stock Exchange to NYSE Euronext London, its new exchange.
Groupe Eurotunnel, which operates the Channel Tunnel between Britain and France, will start trading on NYSE Euronext London on July 19. The company already has its main listing with NYSE Euronext in Paris.
The announcement comes as NYSE Euronext looks to bolster its presence in London, Europe's financial capital.
NYSE Euronext already runs its derivatives business, NYSE Liffe, from London, but is looking to tap into the broader financial markets by tempting companies to switch their London-based trading activity to the exchange, as well as to entice new issuers to use its London bourse.
Despite NYSE Euronext's global presence, its London operation is likely to face tough competition from the incumbent London Stock Exchange, and a current lack of new I.P.O.'s resulting from the market volatility caused by the financial crisis.
Diederik Zandstra, NYSE Euronext's head of international listings, said he had been in touch with market participants and potential new issuers to explain why they should choose the firm's London exchange over the London Stock Exchange.
"We're offering issuers a choice," Mr. Zandstra said in an interview. "Previously, many couldn't list with NYSE Euronext because we didn't have a London base."
With financial markets reeling from the global economic meltdown, exchanges have been keen to move into new markets. Last week, Hong Kong Exchanges and Clearing agreed to buy the London Metal Exchange for £1.38 billion, or $2.14 billion, as the Asian financial firm looked to diversify away from its core equities business.
Article source: http://dealbook.nytimes.com/2012/06/20/nyse-euronext-stakes-claim-in-london/?partner=rss&emc=rss