Portraits of women entrepreneurs.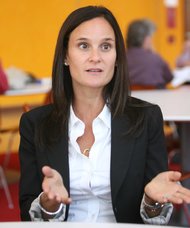 Earl Wilson/The New York Times Susan Parker, Bari Jay.
At the last meeting of the She Owns It business group, we talked about succession planning. This post continues that conversation, beginning with thoughts from Susan Parker, who owns Bari Jay, a family business.
Ms. Parker's outlook was shaped by the fact that she and her sister inherited the business unexpectedly from their father, who left no business succession plan. Had he created a plan, she said, one of two things might have happened. Either she and her sister would not be running Bari Jay today, or the two of them would have been better prepared had their father made it clear that he wanted them to take charge.
"Did you ever think about not running the company?" asked Alexandra Mayzler, who owns Thinking Caps Group.
"I did," said Ms. Parker. But, she added, "At the end of the day, I felt like I owed it to my father and his legacy."
And now, she and her sister also believe they owe it to their children to leave a succession plan. Ms. Parker said they are "over-consumed" with creating one and are now hammering out the details with lawyers and insurance agents. They hope to have it finalized in a few months. "We want to do everything our father didn't," she said. "I've learned from this whole process that it's so complicated to get what you want."
Ultimately, Ms. Parker and her sister want their children — each sister has two — to have the opportunity to enter the business if they want to. As of now, the plan provides that if something happens to one sister, her children will own half the company in a trust while the other sister continues to run it. Ms. Parker said that "something" could be a career-ending disability, as well as death — a possibility she realized only after her discussions with professionals. She also noted that the plan will need to be reassessed every five years or so.
Beth Shaw, who owns YogaFit, asked what happens if none of the children wants to enter the business.
Ms. Parker said that will be their choice. For now, she said her children, who are 6 and 8, plan to work for Bari Jay after they retire from careers as professional football players.
"Then you have the complexity of what if all your children don't get along?" said Deirdre Lord, who owns the Megawatt Hour. "What if one person wants to get out and the other three don't?"
The succession plan will include buyout options, Ms. Parker said. It will also ensure that neither sister's spouse can have any part of the business — a provision that could become especially important if one sister dies and her spouse remarries someone who wants to own a piece of Bari Jay.
"There's just so much to think about," Ms. Parker said.
Jessica Johnson inherited Johnson Security Bureau, which both her grandmother and her father had run. Neither left a succession plan, contributing to some unresolved challenges that Ms. Johnson cannot discuss. However, she said, "It's one thing to have a succession plan," and another to follow it. Questions of interpretation may also arise, she said. "You can have the best intentions and put that on paper, and then how do you make sure it comes to fruition?" she asked. "That's one of the major challenges of succession planning."
For Ms. Shaw, the decision to create a succession plan, working with a lawyer and a financial planner, was inspired by her frequent international business travel. She said she realized she could "fall off a mountain or something" in India. Then what? For Ms. Shaw, it's important that her business continue long after she's gone.
"I did a plan where I'm leaving the business predominantly to some of the people who've worked with the company for a very long time," she said. She's told them, "If something happens to me, you guys are going to be running this thing."
Ms. Parker said it would have been helpful to know that her father planned to leave the company to her and her sister.
Ms. Johnson said her grandmother took a similarly vague approach to spelling out her wishes. "She would say, 'I'm going to the clods of dirt one day,' and I'd say 'What happens then?'" She said her grandmother would reply that she didn't want to "talk about that now."
Ms. Shaw said you have to be pragmatic: "We're all going to be dead, so I need a plan."
You can follow Adriana Gardella on Twitter.
Article source: http://boss.blogs.nytimes.com/2013/07/02/lessons-learned-from-a-difficult-succession/?partner=rss&emc=rss