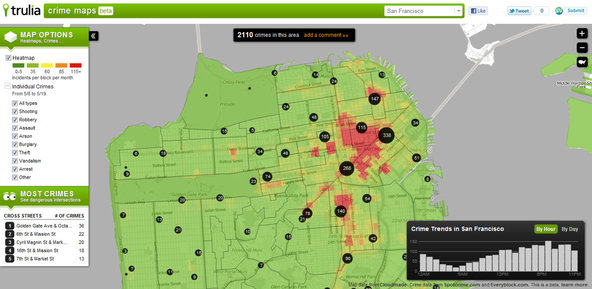 Trulia.com, via Associated PressA screen shot provided by Trulia.com.
Trulia priced its initial public offering at $17 a share on Wednesday, surpassing expectations as the real estate search site raised $102 million.
Earlier this month, the company set its expected price range at $14 to $16 a share. Most of the proceeds from the sale are earmarked for the company, though existing investors are selling some of their holdings as well.
In going public, Trulia is following a path set by its bigger competitor, Zillow. Both companies have bet on an improving housing market and the waves of new buyers and sellers that it can bring. In August, housing starts rose 2.3 percent while existing home sales jumped 7.8 percent jump.
Shares in Zillow have risen nearly 33 percent since the company went public last July, closing on Wednesday at $45.55.
But while Trulia's losses have largely narrowed over the last five years, the company is still reporting red ink. It lost $6.2 million last year, and has run up a $7.6 million loss in the six months that ended June 30.
The company reported 22 million monthly unique visitors for the first six months of the year. It also had more than 360,000 active real estate workers in its marketplace, about six percent of whom were paying subscribers.
The company will begin trading Thursday on the New York Stock Exchange under the symbol "TRLA." Its offering was led by JPMorgan Chase, Deutsche Bank, RBC Capital Markets, Needham Company and William Blair.
Article source: http://dealbook.nytimes.com/2012/09/19/trulia-prices-i-p-o-at-17-a-share-above-expected-range/?partner=rss&emc=rss