9:13 p.m. | Updated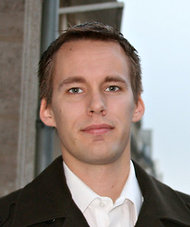 Christian Wiklund, Skout's founder.
SAN FRANCISCO — In the latest cautionary tale of the risks of using social networks to connect with strangers, three men have been accused of raping children they met using a mobile app designed for flirting between adults.
The rape charges startled managers of Skout, the social networking app, because they thought they had adequate safeguards in place.
It took three years for the start-up to find a promising business model. After switching from a Foursquare-like location check-in service to a flirting app that connects people with strangers nearby, the company was attracting millions of new users a month. The company started a separate, more protected, service for 13- to 17-year-olds last year after noticing that minors had gained access to the app.
The company, based in San Francisco, got a vote of confidence in April when it secured $22 million in financing from Andreessen Horowitz, one of Silicon Valley's leading venture capital firms.
But in each rape case, the men are accused of posing as teenagers in a Skout forum for 13- to 17-year-olds. In one case, a 15-year-old Ohio girl said she had been raped by a 37-year-old man. In the second, a 24-year-old man has been accused of raping a 12-year-old girl in Escondido, Calif. In the third, a 21-year-old man from Waukesha, Wis., is facing charges that he sexually assaulted a 13-year-old boy.
"I'm disgusted by what's happened here," Christian Wiklund, Skout's founder, said in an interview on Monday. "One case is too many. When you have three, it looks like a pattern. This is my worst fear."
Mr. Wicklund said he had no choice but to suspend the service for minors, which he said made up a "significant" portion of its member base, while he worked with security experts to add better safeguards.
The cases raise larger questions about the safety of social networking apps and sites, which often forbid minors from using them or sequester them from adult users. But those sites find it nearly impossible to control who goes where. In Skout's case, a majority of its users sign in through Facebook, which officially forbids members under the age of 13. Facebook has acknowledged that younger children still find ways onto the site. It said last week that it was fine-tuning controls that would allow children under 13 to join the service.
Dating apps and sites are not the only places on the Web where illegal sexual behavior has been reported recently. On Tuesday, investors at Balderton Capital, a venture capital firm based in London, told a British technology site that it was returning a 13 percent stake in Sulake, a Finnish social gaming company, after discovering that one of the company's products, Habbo, had been used by sexual predators and for teenage sex chats.
But even when sites monitor for sexual predators and evict them, the predators often simply move to other social networks. In 2009, after Myspace said it had successfully removed 90,000 sex offenders from its site, more than 8,000 of them immediately popped up on Facebook.
New apps for smartphones that use GPS to show where users are have prompted new worries. Skout lets users trade photos, instant messages and virtual gifts. But like other new social networking apps — like Highlight, Circle and About.me — Skout can check a user's location on a map. The company initially marketed its service to adults only, but it started a separate service for 13- to 17-year-olds last year after learning that minors had gained access to the app.
Mr. Wiklund said the app for minors was designed with safeguards like parental controls. The GPS location feature is an opt-in and it never shows a user's location with greater accuracy than half a mile. He said a quarter of the company's 75-member staff monitored the community for illicit behavior. It also uses machine-learning technology — which it calls "the creepinator" — to monitor photos for nudity and check chats for inappropriate sexual messages, profanity, spamming, copyright infringement and violent behavior. Mr. Wiklund said Skout removed "tens of thousands of devices a month" from the service.
But in at least one case, according to the police, a 13-year-old boy sent nude photos to Daniel R. Schmidt, a 21-year-old posing as a 16-year-old in Skout's under-17 community, before the two agreed to meet in a secluded Milwaukee park. There, the police said, the two were found in a sexual act. Mr. Schmidt has been charged with one count of second-degree sexual assault of a child.
A Skout spokeswoman, Lydia Chan, said the company monitored and prescreened all public photos, but, citing a continuing police investigation, she would not say whether it had picked up on the nude photos in this case.
In another case, in Portsmouth, Ohio, a 15-year-old girl said she had chatted with Gene Zimmerman, a 37-year-old man posing as a teenager on Skout, before they agreed to meet, the police said. She told detectives that she had thought the man was going to give her a car ride to meet her boyfriend. Instead, he took her to his apartment and raped her, the police said. Mr. Zimmerman was charged with first-degree rape.
In the third case, after a 12-year-old girl went missing near Escondido, Calif., her mother notified the police. They checked her cellphone and discovered that she had met someone through Skout. They said they found the girl at the home of Christopher Bradley Nutt, 24. He has been charged with several counts, including sex with a minor, child molesting and using a child for pornography. He has pleaded not guilty.
"We're seeing more of these cases," said Lt. Craig Carter of the Escondido Police Department. "Parents need to be aware that their kids could be on these Web sites. In this case, if her parents had taken her phone and looked at her messages on Skout, they would have immediately seen inappropriate responses for someone that is 12 years old."
Mr. Wiklund said he had learned of all three cases through local news outlets and contacted the law enforcement officials to aid in their investigations. He said the company suspended the app for teenagers on Tuesday and banned all their devices, which were registered with the app using unique device numbers. It said it was working with a task force of experts to scrutinize company practices and improve age verification.
Andreessen Horowitz has no plans to abandon its investment in Skout. Scott Weiss, an investment partner there who led the investment in Skout, said one reason the firm invested in the company was its safety and security protocols.
"I thought we were doing a lot, but obviously we have to do better," Mr. Weiss said by phone on Tuesday. "This is a five-alarm fire. The entire company is re-evaluating everything it's doing."
Article source: http://bits.blogs.nytimes.com/2012/06/12/after-rapes-involving-children-skout-a-flirting-app-faces-crisis/?partner=rss&emc=rss