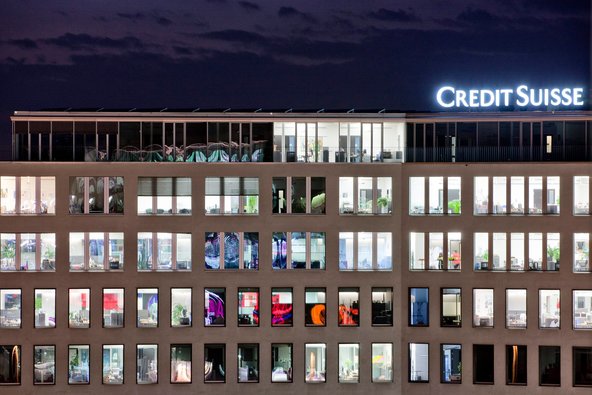 Alessandro Della Bella/European Pressphoto AgencyThe Credit Suisse building in Zurich, Switzerland.
LONDON – Credit Suisse reported on Wednesday that profit rose sharply in the first quarter from the period a year earlier, when the bank booked large charges on its own debt.
Profit rose to 1.3 billion Swiss francs ($1.4 billion) from 44 million francs in the first quarter of 2012, when the bank booked a loss of 1.6 billion francs on the value of its own outstanding debt. Net revenue rose to 7.2 billion francs from 6 billion francs a year earlier.
The results "show the positive momentum of our new business model," the bank's chief executive, Brady W. Dougan, and its chairman, Urs Rohner, wrote in a letter to shareholders in the earnings report released on Wednesday. "In an industry that still faces substantial restructuring, we have effectively completed our transformation."
Mr. Dougan has started to cut back on businesses that could be more costly for the bank because of tighter regulations while seeking to expand its wealth management operations. The bank also said its employee roles fell 4 percent in the quarter, to 46,900 people. But Mr. Dougan did not go as far as his main Swiss rival, UBS, in scaling back investment banking operations.
Credit Suisse agreed on Monday to sell its private equity business, Strategic Partners, to the Blackstone Group for an undisclosed sum in an effort to reduce its presence in so-called alternative investments. Last month, the bank agreed to buy Morgan Stanley's wealth management unit in Europe, the Middle East and Africa, which has $13 billion in assets under management.
In February, Credit Suisse increased its target for cost cuts by $440 million, and plans to have reduced costs by $4.83 billion by the end of 2015. The bank said on Wednesday that it was on track to achieve the goal, partly by bringing its wealth management and asset management operations closer together.
Credit Suisse said pretax profit in its private banking and wealth management business fell 7 percent, to 881 million francs, stating that relatively low interest rates failed to offset an increase in commissions and fees. Net new assets for the period totaled 12 billion francs.
Pretax profit in the investment banking operation rose to 1.3 billion francs from 907 million francs in the first quarter of 2012, partly as a result of cost cuts but also driven by the performance of its fixed-income sales and trading business.
Article source: http://dealbook.nytimes.com/2013/04/24/credit-suisse-profit-soars-in-first-quarter/?partner=rss&emc=rss