Agence France-Presse — Getty ImagesVijay Mallya, co-owner of the Indian Premier League team Bangalore Royal Challengers, left, with Lalit Modi, former chairman of the Indian Premier League, in a 2009 file photo.
NEW DELHI — Suddenly, everything that was once part of the sprawling empire of Indian businessman Vijay Mallya seems to be up for sale.
Mr. Mallya once took over a sleepy family business at age 27 and reinvented it in his own image, forming a jet-setting, luxury-loving consumer-friendly group of companies called UB Group. Yet in a period of a few days, he seems ready to sell it off piece by piece.
On Wednesday, before the company's annual meeting, Mr. Mallya told reporters that Kingfisher Airlines was in talks with foreign carriers about a stake sale.  He declined to be more specific.
The airline has not made a profit since it started in 2005, is late on payments for about 70 billion rupees ($1.3 billion) in bank loans, and has not paid most of its staff for months.
"This is a difficult thing to digest," said Sharan Lillaney, an analyst at Angel Broking. "Mr. Mallya will have to relinquish his crown jewel."
Just a day earlier, Mr. Mallya's liquor company, United Spirits, said it was in talks with the beverage giant Diageo about a stake sale. Any deal is expected to dilute Mr. Mallya's 28 percent stake in United Spirits substantially, to the point where he has little or no control over the business.
His company's less-glamorous businesses — fertilizers and engineering — are also looking for potential investors or acquirers, analysts and bankers said. Those deals, too, are expected to leave Mr. Mallya without control.
The airline has been the biggest burden on the company's operations as its executives seemed willing to practically gamble away the health of the group's other businesses, which were used as collateral for bank loans to the airline. Now Mr. Mallya needs to raise cash to pay off those debts.
Losing control of the businesses he carefully shaped would be a sharp change for a man who was regularly featured on Forbes's "billionaires list"; who collected expensive cars, as well as sponsored a Formula One racing team; and whose parties, in Mumbai and at his Goa seaside home, were regularly attended by prominent Bollywood stars and some of India's most powerful politicians.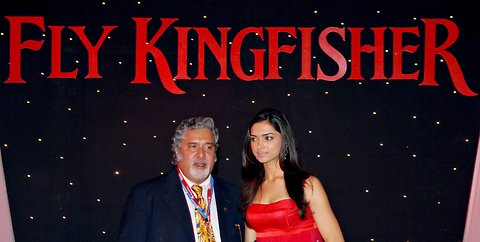 European Pressphoto AgencyVijay Mallya, left, with Bollywood actress Deepika Padukone during a news conference in Mumbai, Maharashtra in this Oct. 30, 2007 file photo.
Mr. Mallya's airline, which seemed to be modeled loosely on Richard Branson's Virgin Airways, features red-suited flight attendants, a generous frequent flier program and, at least when it started, high quality food.
He impressed the Paris Air Show in 2007, ordering 50 Airbus planes and promising an overseas expansion to the United States and Europe.
But by 2009, he was forced to take on bank loans to finance the airline, and postpone deliveries of new planes. Instead of flying to Paris or San Francisco, the airline's new international destination was Dhaka, Bangladesh. Now the company no longer flies international, lists just 12 planes on its corporate Web site, down from more than 70, and has cut its domestic flights drastically.
Even back in 2009, Mr. Mallya was looking for a deal. "We are in discussion with private equity investors," Mr. Mallya told The New York Times in June of that year. "Certain airlines have shown keen interest as well, subject to the government policy allowing them to invest."
Profitability has eluded most private carriers in India, where the heavily subsidized state carrier, Air India, skews the playing field and competition was stiff for new passengers from the country's growing upper middle class.
The Indian government said this month that it would allow foreign airlines to purchase 49 percent of Indian carriers, but the change may have come too late. A few years ago, airlines from the Middle East, Asia and Europe were considered likely acquirers in the Indian market, but Kingfisher won't attract them now because of its financial issues, analysts said Wednesday.
"I don't think any clear deal will go through for Kingfisher because the airline is in very bad shape and the aviation business globally is in bad shape," said A.K. Prabhakar, the senior vice president of equity research at Anand Rathi Financial Services in Mumbai.
Neha Thirani reported from Mumbai.

Article source: http://india.blogs.nytimes.com/2012/09/26/the-king-of-good-times-dismantles-his-empire/?partner=rss&emc=rss