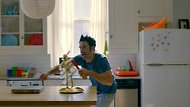 The Web site Fab.com is testing advertising on television with a commercial that shows an unkempt young man in a dumpy apartment transforming his surroundings by touching his possessions.
Decades ago, commercials for Fab detergent were a ubiquitous presence on television.
Beginning on Monday, another brand named Fab will also be turning to TV to advertise.
The newcomer Fab is the social shopping Web site that has a focus on what it calls "everyday design." Fab is working with the Arnold Worldwide agency to test whether a presence on television will further stimulate interest in, visits to and sales through fab.com.
If the test is deemed successful by Fab executives, they would add TV to a media schedule that until now has been dominated by social-media services like Facebook. Fab has used Facebook extensively, running Facebook ads, so-called sponsored stories and, most recently, buying ads on the Facebook log-out page.
The TV test, with a budget of $1 million, will run for three weeks on broadcast and cable outlets in six markets: Austin, Tex.; Baltimore; Denver; Nashville; San Diego; and West Palm Beach, Fla. A 30-second commercial created by Arnold, part of Havas, will be used for the test.
Fab becomes the second e-commerce firm in a week to start testing whether a traditional medium like television will help sell merchandise online. The first was Warby Parker, which sells discount prescription eyeglasses; Warby Parker's test of TV began Thursday.
A major reason for new kinds of retailers experimenting with a tried-and-true medium like television is the so-called second-screen effect, which refers to how millions of people now watch TV with devices like cellphones and tablet computers on hand.
"Mobile is huge for us," said Jason Goldberg, chief executive at Fab, who founded the company with Bradford Shellhammer, whose title is chief design officer. Thirty percent of Fab sales come from mobile devices, Mr. Goldberg said.
Fab has 7.5 million members, Mr. Goldberg said, an increase of 50 percent from five million on July 1. "We're definitely starting to break into the mass market," he said, which offers another reason to try TV as an ad medium.
Another reason for Fab's interest in TV is that its audience is 70 percent women, who are heavy viewers of television.
If the test works, Mr. Goldberg said, "we'll take the ad national and expand" the budget to "double-digit millions."
The commercial is about a style-challenged young man who, when the spot begins, is asleep in bed. (Mr. Shellhammer joked that the original idea for the television test was "an infomercial with me as the star.")
As the man wakes, he looks out the apartment window and sees a young woman arriving in a taxi cab.
Startled, he gets ready for her arrival. When he taps his unstylish alarm clock, it suddenly turns into a better one. He keeps tapping it until it becomes one he likes.
Inspired, the man spends the rest of the commercial running around his dowdy apartment, tapping the furniture, wall hangings, bric-a-brac and, finally, his clothes, until they are transformed into stylish trappings.
The spot ends with the woman entering the apartment and, pleased by what she sees, joining the man on the sofa, which a moment before had undergone its own style makeover. She taps the man and gives him a knit cap with a built-in face warmer known as a Beardo, one of the most popular items on fab.com.
Other items in the commercial in addition to the Beardo are "products we've sold on Fab," Mr. Shellhammer said. "We want people to say, 'What is that?' and go to the site."
Scott Ballantyne, chief marketing officer at Fab, said the goal of the commercial was to "bring the Fab color, energy, experience, to life." He said he recommended Arnold Worldwide to work on the spot based on his previous experience working with the agency.
---
Article source: http://mediadecoder.blogs.nytimes.com/2012/09/23/another-e-commerce-site-tests-advertising-on-tv/?partner=rss&emc=rss