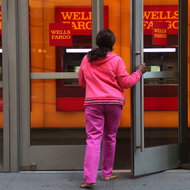 Cx Matiash/Associated PressA branch of Wells Fargo in Manhattan.
Wells Fargo reported its 10th consecutive quarter of earnings growth as a result of a booming business originating and refinancing mortgages.
The bank's second-quarter profit was a record $4.6 billion, a 17 percent rise from the $3.9 billion profit it reported a year earlier. The San Francisco-based company earned 82 cents a share, which was more than the 81 cents expected by the analysts polled by SNL Financial.
Wells, with a relatively small presence on Wall Street, has largely skirted the controversies that have engulfed many of its large competitors and helped it pass JPMorgan Chase to become the largest American bank by stock market capitalization.
Wells has relied largely on its consumer banking business, and particularly its mortgage lending division, which has benefited from record-low interest rates.
The bank originated $131 billion of mortgages in the second quarter, up from $129 billion in the first quarter of the year. Meanwhile, the improving credit quality of the bank's customers allowed the banks to set aside less money for loan losses.
Revenues for the entire company were up to $21.3 billion from $20.4 billion a year ago. Profits were up at each of the bank's three business divisions: wholesale banking, community banking and wealth management.
The bank's chairman and chief executive, John Stumpf, said the "the economic recovery remains uneven," but that the bank benefited from signs of stabilization in the housing market. He said Wells had "record quarterly mortgage applications, increases in lending to consumers and businesses, and continued growth in deposits and cross-sell."
Wells took a hit on Thursday when it was announced that it would pay $175 million to settle Department of Justice accusations that it discriminated against some minority homeowners seeking loans between 2004 and 2009. In making the settlement, Wells denied the charges.
Wells shares closed slightly down Thursday at $32.85, up from about $28 at the start of the year.
Article source: http://dealbook.nytimes.com/2012/07/13/wells-fargo-posts-4-6-billion-profit-up-17/?partner=rss&emc=rss