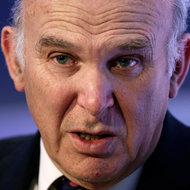 Matthew Lloyd/Bloomberg News Vince Cable, Britain's business secretary, said the measures would provide shareholders with new powers to hold companies accountable.
LONDON – Britain will make shareholder votes on executive pay binding next year as part of a set of measures announced by the government on Wednesday to rein in excessive remuneration.
Vince Cable, the business secretary, presented the measures to Parliament on Wednesday, saying they would provide shareholders with new powers to hold companies accountable on their pay practices and increase transparency. The rules are expected to be approved by Parliament and then become law in October 2013.
"At a time when the global economy remains fragile, it is neither sustainable nor justifiable to see directors' pay rising at 10 percent a year, while the performance of listed companies lags behind and many employees are having their pay cut or frozen," Mr. Cable said.
Under the new rules, companies listed in Britain would have to gain majority support for their executive remuneration from their shareholders at least every three years or more often if they decide to increase pay. Companies will also no longer be able to pay departing directors more than shareholders have agreed.
But the measures, which also include the mandatory disclosure of a single figure for executives' total annual pay, were criticized by the opposition Labor Party as not going far enough and being a watered down version of initial proposals.
Chuka Umunna, a Labor Party member of Parliament, welcomed the binding vote and other measures but accused Mr. Cable of doing a U-turn on original proposals. "Having proposed an annual vote, he now seeks one every three years," Mr. Umunna said. "Is it not the case that this will simply incentivize boards to draft policy as broadly as possible?"
Shareholder opposition against remuneration practices has been building in Britain, the United States and elsewhere after some companies continued to hand out large paychecks even though their share prices had declined. Pay practices at the insurance company Aviva, the oil producer Cairn Energy and the advertising giant WPP were rejected recently by more than half of investors.
Mr. Cable said that companies would have to report a single figure of total pay for executives after complaints that remuneration reports were too confusing and deferred bonuses or long-term incentive plans made it harder to compare annual pay.
The measures, which are the result of months of consultations with investor groups and companies, won support from business groups. John Cridland, the director general of the Confederation of British Industry, said the measures struck "a balance, by giving shareholders increased transparency on pay and providing ways to hold boards to account, without getting them bogged down in day-to-day micro-management."
Article source: http://dealbook.nytimes.com/2012/06/20/in-britain-a-plan-to-give-shareholders-more-say-on-pay/?partner=rss&emc=rss