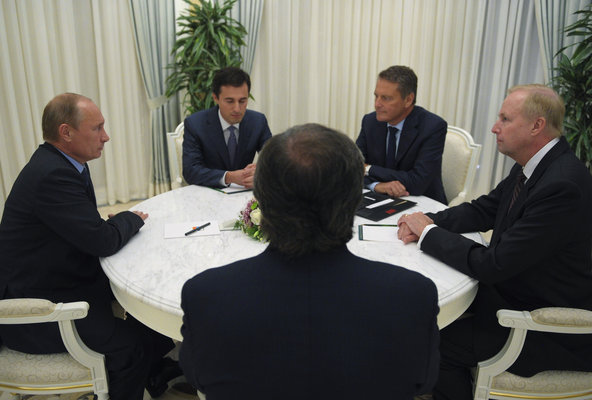 Alexei Druzhinin/RIA Novosti Kremlin, via Associated PressClockwise from left,  Russian President Vladimir Putin; an unidentified interpreter; Carl-Henric Svanberg, the chairman of BP;  Robert  Dudley, BP's chief executive; and  Igor Sechin, the Rosneft chairman. The officials met on Tuesday at the Black Sea resort of Sochi.
MOSCOW — BP may finally be close to resolving a long-running business dispute over its joint venture in Russia.
Although the government provided few details of their discussion, the chief executive of BP, Robert W. Dudley, met with President Vladimir V. Putin of Russia on Tuesday as BP continued trying to extricate itself from a nine-year-old partnership called TNK-BP.
The joint venture is vital for the British oil company, providing about a quarter of its total global oil production — about the same as the share produced in the United States, where its business is overshadowed by lawsuits stemming from the 2010 oil spill in the Gulf of Mexico.
But BP and its partners in the business, three Russian billionaires, have been fighting for years. The billionaires are also suing BP for billions of dollars in damages for what they say is the oil company's violation of the shareholder agreement underlying TNK-BP.
Igor I. Sechin, the chief executive of Rosneft, the state-owned Russian oil company, was also at the meeting, which was held at the presidential resort in Sochi. Rosneft reportedly has asked banks for $10 billion to $12 billion in financing for the purchase of BP's stake in TNK-BP.
"During the meeting, BP reiterated its long-term commitment to Russia and provided assurances that while the company is looking to exit its investment in TNK-BP, it is not exiting Russia," BP said Wednesday.
In its own statement, the Kremlin said Mr. Putin discussed "the continuation and expansion" of BP's business in Russia.
Meetings between chief executives and Mr. Putin, who personally oversees major deals in the oil sector, often signal coming agreements. Mr. Dudley appeared in a photograph with Mr. Putin in 2010, a few months before BP and Rosneft announced a deal to explore for oil in the Russian sector of the Arctic Ocean. That agreement was scrapped when BP's partners in the Russian joint venture filed their lawsuit.
TNK-BP manages oil fields in Siberia that are aging but still profitable. If BP left the joint venture, it would be free to join the race to explore for oil in Russia's area of the Arctic Ocean, a venture that could eventually be much more lucrative.
Exxon Mobil, the largest American oil company, Eni of Italy and Statoil of Norway already have agreements to explore for oil off the northern coast of Russia.
Any sale of BP's stake in the joint venture to a third party like Rosneft would have to wait at least until mid-October. That is when a three-month period expires during which BP is obliged to negotiate the sale of its stake in TNK-BP to its Russian partners.
Rosneft and BP's partners in TNK-BP declined to comment.
Selling the stake would also help shore up BP's finances, which are being stretched by settlements of the lawsuits related to the Gulf of Mexico disaster. It would also fit the "shrink to grow" strategy BP has announced. This month, BP sold gulf oil fields to Plains Exploration and Production for $5.5 billion. The British oil giant is also negotiating to sell a refinery in Texas City, Tex., to Marathon Petroleum, The Financial Times reported Wednesday.
But is it not certain that BP will sell its stake in TNK-BP. Even after the spill in the gulf, BP has negotiated both to buy out its billionaire partners and to sell its own interest to them.
Debtwire, a trade publication covering distressed debt and leveraged finance, reported that Rosneft had approached banks for loan offers to buy a stake in TNK-BP. Bloomberg reported it was for BP's share.
Stanley Reed contributed reporting from London.
Article source: http://dealbook.nytimes.com/2012/09/19/bps-chief-meets-with-russian-leaders-on-joint-venture/?partner=rss&emc=rss