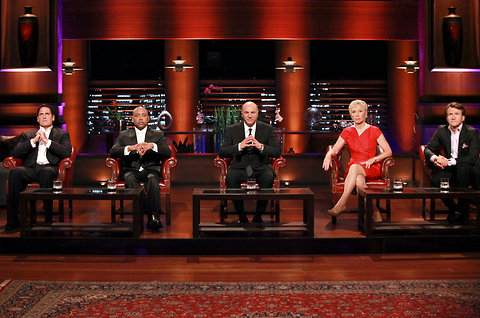 Richard Cartwright/ABC Mark Cuban, Daymond John, Kevin O'Leary, Barbara Corcoran and Robert Herjavec are judges on Shark Tank.
A broker assesses the small-business lending market.
Last week, I met with two entrepreneurs from a growing company called Brooklyn Slate. Sean Tice and Kristy Hadeka, whose company makes cheese boards out of slate, shared their stories with me, and many of them  would have sounded familiar to anyone who has struggled to build a business. But there was one story that I had not heard. Mr. Tice and Ms. Hadeka had come close to appearing on the ABC reality show "Shark Tank," where entrepreneurs pitch their companies to a group of wealthy investors, including Mark Cuban, the owner of the Dallas Mavericks.
While many entrepreneurs would give their left toe to be on this show, Mr. Tice and Ms. Hadeka declined. And they did so for an intriguing reason: In order to proceed, they were required to enter into an agreement with Finnmax, the show's producer, that would have given Finnmax the option either to receive a 2 percent royalty on the operating profits of the company or take a 5 percent equity stake.
Hearing this story encouraged me to sit down Friday night with my children and, along with hundreds of thousands of other families, watch the season debut of "Shark Tank." We saw four entrepreneurs pitch their dreams to the sharks. Two companies made a deal, one rejected an offer and another went home with its tail between its legs.
As I watched, it was hard for me to focus on the entertainment and forget what I do for a living, which is to help businesses obtain financing. You see, there are options available to these entrepreneurs besides giving away equity. Debt options are particularly relevant when a company is in the business-to-business space and has purchase orders and accounts receivables. On Friday's show, this was the case for two of the companies, BevBuckle and BuggyBeds, that received equity financing.
If a company has a purchase order from a viable company, it can usually get a purchase-order financing company to advance the money the company needs to fulfill the order. As soon as the products ship and there is an invoice, an accounts-receivable financing company pays off the purchase-order financing company. When the invoice is paid, the business owners get paid, minus the financing fees.
These lending programs can be expensive, but the financing is transactional, and as the company grows, the fees eventually fall. Most important, while angels and sharks who take equity are likely to be with you forever, the debt holder eventually goes away.
It's also important to understand that the financing companies offer a tool with the capacity to grow. If a company's orders grow from $50,000 one month to $500,000 the next, the business owner has an instrument in place that's ready to handle the increase. By contrast, when owners give away a big percentage of their company for a $100,000 investment and then get hit with a big order, they have a brand-new cash flow problem.
On Friday night, Jay Kriner, the owner of BevBuckle, gave away 51 percent of his company for $50,000 to Barbara Corcoran, one of the sharks. He told us that Urban Outfitter and other major retailers were ready to give him purchase orders. Similarly, the owners of Buggybeds, Maria Curcio and Veronica Perlongo, gave away 25 percent of their company for $250,000. They had sold $150,000 of product at Home Depot in the previous six months.
When entrepreneurs consider accepting a debt or equity investment, they should always consider the alternative and evaluate the pros and cons. Sometimes debt is too expensive or too onerous, and equity is the best choice. Whatever the situation, the decision can make or break a company and needs to be thought through carefully. At least, that's my opinion. Mark Cuban thinks the decision is a lot clearer than I do.
In an e-mail exchange, he wrote, "I would tell every entrepreneur what I tell them right now, debt is a nightmare. Banks are not forgiving, and the last thing you want to do is build your business with a priority placed on having to pay back the bank before you invest further in your business. Equity is far better and sweat equity is the best."
In a phone interview, Ms. Corcoran told me a story about how before she sold her company for $66 million, she hit a tight spot and almost gave away a big part of the company to a savvy, wealthy investor. Today, she is thrilled that she didn't choose that option. And yet, on Friday night she didn't seem hesitant about paying $50,000 to take a 51 percent interest in BevBuckle.
Remember that when you're giving away equity, you're getting married to your investors. Make sure that your value and ideas are in synch. And keep in mind that if your company ever wants to borrow money in the future, it's likely that any investor who owns 20 percent or more of the company will have to guarantee the loan personally. Will your investor be willing to do that? And if your investor is promising expertise and help the way the sharks do, make sure they spell out precisely what they mean before you sign.
What do you think? Did Sean Tice and Kristy Hadeka make the right decision when they passed up the opportunity to exchange 5 percent of their company for an appearance on "Shark Tank?" Do you think Jay Kriner of BevBuckle and Maria Curcio and Veronica Perlongo of BuggyBeds got good deals from the sharks? Or would they have been better off taking debt financing and keeping 100 percent of their companies?
Ami Kassar founded MultiFunding, which is based near Philadelphia and helps small businesses find the right sources of financing for their companies.
Article source: http://boss.blogs.nytimes.com/2012/09/19/passing-up-the-opportunity-to-appear-on-shark-tank/?partner=rss&emc=rss