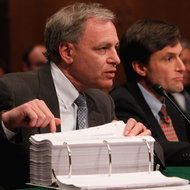 Charles Dharapak/Associated PressDavid A. Viniar, Goldman's chief financial officer, at a Senate panel in 2010.
Goldman Sachs introduced on Tuesday what may be the first of the next generation of leaders to run the storied Wall Street firm, saying that its longtime chief financial officer, David A. Viniar, would retire at the end of January and be replaced by Harvey M. Schwartz, a 48-year-old executive.
The departure of Mr. Viniar, 57, holds greater significance for Goldman than would the departure of a chief financial officer from any other Wall Street bank. Both inside and outside of Goldman, many consider Mr. Viniar to be the bank's most valuable executive, a financial wizard and deft risk manager with a mastery of Goldman's complex balance sheet.
Though not as well known as Lloyd C. Blankfein, the bank's chief executive, Mr. Viniar has played a central role in navigating Goldman through a tumultuous period. He has served as C.F.O. since 1999, the year of Goldman's initial public offering, and helped manage the bank, largely with success, through the global financial crisis.
Mr. Viniar, who began his career at Goldman in 1980, had been telling colleagues for the last year that he was looking for an appropriate time to move on.
Goldman SachsHarvey Schwartz, the new chief financial officer at Goldman Sachs.
Analysts said the departure of Mr. Viniar, who was viewed by analysts and investors as a source of stability for Goldman, indicated that the bank's leadership believed it had put one of the most challenging times in its history behind it. And it will likely spur further speculation about who will replace Mr. Blankfein, Goldman's chief executive since 2006. Mr. Blankfein, who will turn 58 on Thursday, has said he has no plans to retire.
"Any significant positioning of the firm's capital over the years has been done with David in the driver's seat," said Roger Freeman, an analyst with Barclays. "But the acute crisis-management period that Goldman recently went through has drawn to a close, so this is a good time for him to step aside."
Mr. Schwartz will take over the C.F.O. post during a moment of relative calm for Goldman. Though the economic environment remains uncertain, the markets have steadied. The bank has digested many of the post-financial-crisis regulatory changes, and has put many of its regulatory woes behind it, including paying $550 million to settle accusations by securities regulators that it misled investors in its sale of mortgage securities. The Justice Department recently notified Goldman that it would not face criminal prosecution.
Mr. Viniar's role has stretched beyond the traditional C.F.O. functions. All administrative units at the bank — operations, technology and finance — report to him. He will become a member of the bank's board of directors upon his retirement.
He played an important role in drastically reducing the firm's exposure to the housing market in the period leading up to the global financial crisis. Mr. Viniar also helped oversee the huge bet that Goldman placed against the mortgage-securities market, a wager that he would later refer to in an e-mail to Goldman's president, Gary Cohn, as "the big short."
That trade, which earned Goldman huge profits, became the focus of controversy. The bank said the negative bet was a merely a hedge against its exposure to the housing market. But lawmakers accused Goldman of deceiving clients by selling them mortgage-backed securities while simultaneously betting against the mortgage market. In 2010, Mr. Viniar and his colleagues were forced to testify before Congress about the firm's conduct.
Mr. Schwartz, a New Jersey native, joined Goldman in 1997 after spending the early part of his Wall Street career at Citigroup. He earned his bachelor's degree from Rutgers and an M.B.A. from Columbia University.
Affable and brawny, Mr. Schwartz has spent most of his Goldman career working with clients. At Goldman's investment bank, he advised corporate clients on their financing needs, and then moved over to the securities unit, where he has helped oversee much of the firm's trading operations, as well as its relationships with large mutual funds and hedge funds.
Several analysts questioned whether Mr. Schwartz had the financial chops for the job. In response, Mr. Viniar pointed out that he himself was not trained as an accountant and had instead relied heavily on his team of controllers and financial managers. And, he added, Mr. Schwartz had a great deal of experience with managing the firm's risk, a crucial part of the job.
"I have sought Harvey's advice on risk judgments and market knowledge for a long time, and I know he will be an outstanding chief financial officer," Mr. Viniar said.
Tuesday's announcement put an end to speculation over Mr. Viniar's replacement. Goldman traditionally promotes its homegrown talent rather than hiring from outside the bank. Two of Mr. Viniar's lieutenants — the treasurer, Elizabeth Beshel Robinson, and the chief accounting officer, Sarah Smith — were also seen as candidates for the post.
Mike Mayo, an analyst, noted on Tuesday that while Mr. Viniar was leaving Goldman in strong financial shape, the bank's stock was still relatively low. During an analyst call, he asked if Mr. Viniar planned to sell any of his prodigious stock holdings — he owns about $225 million worth of Goldman shares, according to the bank's last proxy statement — at these levels.
"I will continue to be a large stockholder for many years to come," Mr. Viniar said. "As C.F.O., Harvey will be able to get the stock price higher than I have been able to."
Article source: http://dealbook.nytimes.com/2012/09/18/goldmans-longtime-c-f-o-to-retire/?partner=rss&emc=rss