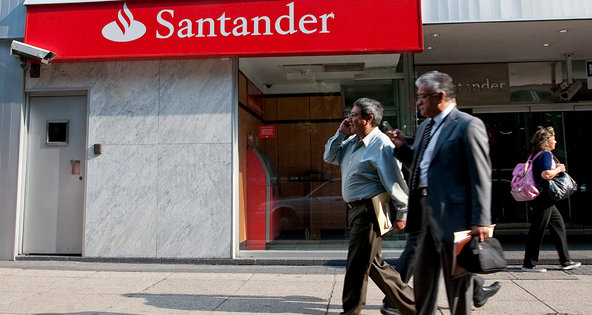 Susana Gonzalez/Bloomberg NewsA branch of Banco Santander in Mexico City in 2010.
The Mexican arm of Banco Santander priced the American portion of its initial public offering at $12.18 on Tuesday, within its expected price range, according to a person briefed on the matter who declined to be identified.
The unit, Grupo Financiero Santander México, sold additional shares on the Mexican Stock Exchange at 31.25 pesos each, at the middle of that offering's expected range. The lender hoped to raise up to $4.2 billion through the dual listing, one of the biggest stock sales ever by a Mexican company.
When it begins trading on the New York Stock Exchange on Wednesday under the ticker symbol BSMX, Santander México will become the only Mexican lender listed on the Big Board. The offering was largely seen as a way to tap into Mexico's growth prospects as investors hunt for ways to gain greater exposure to international markets.
The offering for the unit was also seen as a test for investors on a number of fronts. Its size, trailing only Facebook's $18 billion stock sale for the year, was seen as potentially daunting at a time when the I.P.O. market has stagnated. The number of initial offerings priced this year has slid nearly 50 percent from 2011, according to data from Renaissance Capital.
And Santander México will still be closely tied to its parent, one of Spain's biggest banks and a closely watched proxy of that country's financial health. Banco Santander is expected to control about 75 percent of the company, raising the prospect that it may flood the market with additional shares if it needs to raise more capital.
Neither its size nor its Spanish parent appeared to be a major hurdle for investors. Santander México's offering was about two times oversubscribed, according to Scott Sweet, the senior managing partner of IPO Boutique.
"Originally, I was concerned about the size," Mr. Sweet said. "But as the road show took place, the conversion rates on orders was excellent."
Investors appeared to be enticed by Santander México's financial performance, which has outstripped that of the parent company. Its profit for the first half of the year rose 14.4 percent, to 556 million euros, as it benefited from improvements in the Mexican economy.
"There are very few quality banks that hit the I.P.O. front, whether they be in the U.S. or abroad," Mr. Sweet said.
Profit at its parent, Santander, slid 51 percent in the first half from the year-ago period, to 1.7 billion euros, as it continued to grapple with Spain's depressed economy.
Underwriters for Santander México sold about 20 percent of the bank's shares in Mexico; the rest were sold internationally.
Santander has already taken its Brazilian arm public, raising about $7.5 billion, and said that it planned to hold I.P.O.'s for all of its biggest foreign subsidiaries within the next five years.
The Mexican stock sale is expected to bolster Santander's capital ratios by about half of a percentage point.
The offering was led by Santander, UBS, Deutsche Bank and Bank of America Merrill Lynch.
Article source: http://dealbook.nytimes.com/2012/09/25/santanders-mexican-arm-said-to-price-its-i-p-o-at-12-18/?partner=rss&emc=rss