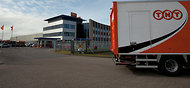 Peter Dejong/Associated PressEuropean antitrust authorities had raised concerns over U.P.S.'s proposed $6.9 billion takeover of TNT Express.
7:38 a.m. | Updated
LONDON — United Parcel Service announced on Monday that it would withdraw its $6.9 billion takeover offer for TNT Express, a Dutch shipping company, after European antitrust authorities told U.P.S. that they would block the deal.
The announcement is a blow to U.P.S.'s expansion outside of the United States as the deal for TNT Express would have given the American company a larger presence in European and emerging markets.
Since first announcing the deal last March, U.P.S. had faced difficulties with European regulators, who feared that the takeover would hamper competition.
To appease antitrust concerns, U.P.S. had agreed to sell a number of business units and to grant access to some of its airline network to rivals. TNT Express also said it would sell its own airline operations as part of the antitrust concessions.
The company had been locked in negotiations with European regulators since November, but was told late last week that its proposed concessions did not meet authorities' demands. U.P.S. had tried to convince regulators that selling assets to the French shipping company DPD would create enough competition to satisfy regulatory concerns.
The steps did not go far enough.
Competition authorities at the European Commission informed both companies that they would not approve the multibillion-dollar takeover, according to separate statements from U.P.S. and TNT Express on Monday. European officials have until early February to rule officially on the proposed takeover.
"We are extremely disappointed with the European Commission's position," U.P.S.'s chief executive, D. Scott Davis, said in a statement. "We proposed significant and tangible remedies designed to address the European Commission's concerns with the transaction."
The failure to reach an agreement comes at a difficult time for TNT Express, which has reduced its operations across Europe and faced a series of setbacks in emerging economies like Brazil and China. While the Dutch company has large operations across Europe, analysts say it would need a large injection of investment to expand globally.
Potential new suitors could include FedEx, whose European business is smaller than that of U.P.S., while a potential deal with the European shipping giant DHL would raise too many antitrust concerns, according to analysts.
Shares in TNT Express fell 40 percent, to 4.94 euros, or $6.60, in morning trading in Amsterdam on Monday. U.P.S.'s failed offer for the Dutch shipping company was 9.50 euros for each share in the Dutch shipping company.
The stock price of PostNL, the largest shareholder in TNT Express, also dropped 35 percent in morning trading on Monday.
"The European Union's decision is very disappointing," said Stephen Furlong, an analyst at Davy Research in Dublin, who rates TNT Express as underperform. "It's hard to see the company being bought by anyone else."
After failing to win regulatory approval, U.P.S. has agreed to pay a 200 million euros, or $267 million, termination fee to TNT Express, according to a company statement. The takeover would have been U.P.S.'s largest acquisition in the company's 105-year history, according to the data provider Capital IQ. U.P.S. will continue to look for opportunities to grow organically and through acquisitions, according to a company spokeswoman.
U.P.S.'s acquisition of TNT Express is the largest failed takeover since the European aerospace giants BAE Systems of Britain and European Aeronautic Defense and Space, or EADS — the parent of Airbus — ended their proposed $45 billion merger talks in October after local politicians and shareholders balked at the deal.
The decision against U.P.S.'s takeover of TNT Express also is the latest move by European competition authorities to thwart multibillion-dollar deals that they believe are against consumers' interest. Last year, NYSE Euronext and Deutsche Börse called off their planned $9.2 billion merger after European antitrust regulators opposed the deal.
Morgan Stanley, UBS, Bank of America Merrill Lynch and the law firm Freshfields Bruckhaus Deringer had advised U.P.S., while Goldman Sachs, Lazard and the law firm Allen Overy had advised TNT Express and its supervisory board.
Article source: http://dealbook.nytimes.com/2013/01/14/u-p-s-to-withdraw-6-9-billion-takeover-of-tnt-express/?partner=rss&emc=rss