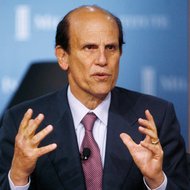 Fred Prouser/ReutersMichael Milken, who was a symbol of Wall Street greed in the 1980s, has become a prominent philanthropist.
More than two decades after pleading guilty to securities fraud, the financier Michael Milken still looms large. The demand for junk bonds, a market that he helped create, have touched record levels this year. A number of his disciples, like Leon Black of Apollo Global Management, are among the most powerful players on Wall Street.
And though it was a generation ago that Mr. Milken – who earned a $550 million bonus in 1986 – became a symbol of Wall Street greed, he remains a presence in the world of white-collar crime. Mr. Milken's continued influence became clear during the sentencing of Rajat K. Gupta.
Last Wednesday in Federal District Court in Manhattan, Mr. Gupta, a former Goldman Sachs director, received a two-year prison term for leaking boardroom secrets about the bank to the hedge fund manager Raj Rajaratnam.
Judge Jed S. Rakoff, the presiding judge in Mr. Gupta's case, made a surprising reference to Mr. Milken during the hearing. It came after Mr. Gupta's lawyer, Gary P. Naftalis, made a plea for a lenient sentence. Mr. Naftalis cited the hundreds of letters of support for Mr. Gupta, who in addition to his business accomplishments has played a leading role in fighting global disease. He read a letter from Barry Bloom, the former dean of the Harvard School of Public Health.
"Dr. Bloom stated, 'To my knowledge, as someone who has worked in global health for 40 years, with the sole exception of Bill Gates, no leader of the private sector or corporate world has invested so much of his time, energy, and personal credit to do so much for the poorest people of the poorest countries than Rajat Gupta," Mr. Naftalis said.
"I'm glad he didn't say except for Michael Milken," Judge Rakoff responded.
The comment by the judge caught the courtroom by surprise. Over the last several decades, Mr. Milken has been a prominent philanthropist. Still, while his family foundation has been a significant contributor to education initiatives and medical research causes, it has not been involved in global public health matters.
"Michael Milken wasn't there on this issue," Mr. Naftalis said.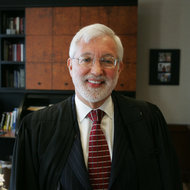 Fred R. Conrad/The New York TimesJudge Jed. S. Rakoff of Federal District Court in Manhattan.
Later in the hearing, Judge Rakoff referenced his earlier comment about Mr. Milken. The judge rejected the recommendation by Mr. Gupta's lawyer that his client receive a probationary sentence and perform community service in Rwanda, saying that said this would amount to insufficient punishment because Mr. Gupta had already devoted himself to such activities. He called the Rwanda idea "innovative" but at the same time mocked it, noting that it sounded like a "Peace Corps for insider traders."
"Moreover, someone who has suffered a reputational loss has a strong motive to do those kinds of things," Judge Rakoff said. "I somewhat unfairly made a joke at the expense of Mr. Milken previously, but he is a good example of a person who has attempted to recapture his reputation by doing good works."
Both Judge Rakoff and Mr. Naftalis, the lawyer for Mr. Gupta, have more than just a passing interest in Mr. Milken. Both men have deep connections to the late 1980s insider trading scandal that featured Mr. Milken's former firm, Drexel Burnham Lambert. As a criminal defense lawyer, Mr. Rakoff represented Martin A. Siegel, a former Kidder Peabody investment banker who admitted to leaking inside information to the financier Ivan Boesky. And Mr. Naftalis represented Kidder Peabody in the case, working closely with Mr. Rakoff.
A spokesman for Mr. Milken, Geoffrey Moore, took umbrage at Judge Rakoff's comments. He bristled at the idea that Mr. Milken's philanthropic efforts were solely a function trying to restore his reputation.
In a statement to DealBook, Mr. Moore listed Mr. Milken's numerous charitable efforts and emphasized that Mr. Milken endowed his family foundation with several hundred million dollars in 1982, long before his legal troubles.
"Mike's efforts today are no more than a continuation of the same efforts that began long before his reputation was damaged," Mr. Moore said. "He is far too busy trying to advance medical science to worry about what others think of him."
Article source: http://dealbook.nytimes.com/2012/10/29/milkens-past-invoked-in-gupta-sentencing/?partner=rss&emc=rss