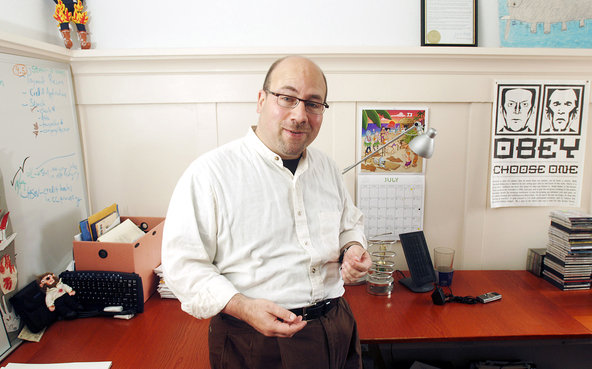 Thor Swift for The New York TimesCraig Newmark, founder and chairman of Craigslist, shown in 2004 at his company's office in San Francisco.
In 1995, a good-hearted programmer named Craig Newmark thought of a way to make newspaper classified ad listings simple, and in turn, people's lives easier. His free Web site, called Craigslist, quickly gained millions of users. Eye-popping offers to buy the company outright came in, all of which Mr. Newmark turned down, saying Craigslist was a "public good."
Craigslist makes hundreds of millions of dollars a year, but it has become stagnant. Today, it feels stuck in the 1990s, where links are electric blue and everything is underlined. As a result, the site is now crammed with listings and is extremely difficult to use.
One might think Craigslist is as ready for disruption as sleepy newspaper classified ad sections once were. Why hasn't a site this vulnerable been displaced?
There may be part of the answer in this tale. Eric DeMenthon, a 27-year-old programmer, was one of the users overwhelmed by the site. In 2008 he was searching for an apartment on Craigslist and he couldn't navigate the endless listings. So he quickly built an application that placed Craigslist apartment ads on an online map. After finding an apartment with the tool he had cobbled together, he realized the product had saved him so much time that he should make it available to others, also as a "public good."
He said, "I did the math and I figure if I save people three hours of their time on my site when they need to look for a new apartment, that's over 350 years of time that I can save people each month."
Last week, Craigslist served Mr. DeMenthon with a lawsuit accusing his site, Padmapper, of infringing on copyright and trademark, and it threw in a long list of other piracy-related claims for good measure.
But, according to Mr. DeMenthon, he isn't stealing anything.
"I was kind of disappointed. I was always a great admirer of what Craigslist was doing," he said by phone from his two-bedroom apartment in Mountain View, Calif., where he works on the site from noon until 3 a.m. daily as the only full-time employee. "I'm just trying to help people save time."
This isn't the first time Craigslist has claimed such violations. The Internet is littered with digital carcasses that once built on top of the listings site. Their pixelated tombstones are inscribed with one-liners that Craigslist killed access without any notice, or they were sent a cease-and-desist letter by Perkins Coie, a top corporate law firm that frequently represents Craigslist.
One, a site called Craigs Little Buddy, could search multiple Craigslist cities at once — a simple feature that Craigslist doesn't offer. Another site, Craigsly, helped people set up e-mail alerts when a certain type of listing, like a specific car or apartment for sale, was posted in their area. Another, Ziink Craigslist Helper, which offered a free browser plug-in that made navigating listings easier, was also shut down by Craigslist lawyers.
Most of the sites that Craigslist killed began as hobby projects, making little to no money — just programmers trying to improve a product they loved.
Craigslist and its chief executive, Jim Buckmaster, did not return repeated requests for comment.
Yet something doesn't add up in all this. In July 2010, on the question-and-answer site Quora, Mr. Newmark defended the company's actions in a similar situation to Padmapper's, saying he did not take issue with sites that do not affect Craigslist's servers. "Actually, we take issue with only services which consume a lot of bandwidth, it's that simple," Mr. Newmark wrote.
But Padmapper does not siphon off a bit of bandwidth from Craigslist. Instead, it uses a company called 3Taps, which collects listings from Craigslist by looking for them on search engines, including Google and Bing, then organizing them and wrapping them up in an application programming interface so developers can build sites that point to Craigslist's listings.
"The listings are already out there. We're finding them already on the Web and organizing them so other people don't have to do the same thing twice," said Greg Kidd, the chief executive of 3Taps. "And we're not breaking any laws because we are pulling in the facts from the listing; everyone knows you can't copyright facts." Craigslist also named 3Taps in the lawsuit filed last week.
As intellectual property lawyers will tell you, Mr. Kidd is not off base: facts, like those in classified listings, cannot be copyrighted.
So why hasn't anyone managed to unseat Craigslist, a site that has barely changed in close to two decades?
It has dug an effective moat by cultivating an exaggerated image of "doing good" that keeps its customers loyal, while behind the scenes, it bullies any rivals that come near and it stifles innovation.
Mr. Kidd explained: "Where there is dominance in an exchange place, like a classified platform such as Craigslist, the importance is not in the listings posted on the site — those are just facts — but rather the critical mass of connecting people."
As for Mr. DeMenthon of Padmapper, even in the face of legal action, he feels he has a moral obligation to keep the site running. "I don't have a lawyer," he said. "I don't know what I'm going to do, but I definitely know I have a chance to do more good with this site."
E-mail: bilton@nytimes.com
Article source: http://bits.blogs.nytimes.com/2012/07/29/when-craigslist-blocks-innovations-disruptions/?partner=rss&emc=rss