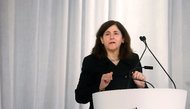 Carlo Allegri/ReutersGracia C. Martore, chief executive of Gannett.
The Gannett Company agreed on Thursday to buy the Belo Corporation for about $1.5 billion in cash, in a deal that almost doubles Gannett's television operations.
Under the terms of the deal, Gannett will pay $13.75 a share in cash, 28 percent above Belo's closing price on Wednesday. Gannett will also assume $715 million of Belo's existing debt.
The takeover is a move by Gannett to diversify its media operations, at a time when traditional print media continues to struggle. The company said the transaction would increase its television portfolio to 43 stations from 23, while its revenue from digital and broadcasting operations would make up two-thirds of its pro forma earnings before interest, taxes, depreciation and amortization.
"We have been successfully transforming Gannett into a diversified multimedia company with broadcast, digital and publishing components across high-growth markets nationwide, and this is another important step in the process," Gracia C. Martore, Gannett's chief executive, said in a statement.
In pre-market trading, shares of Gannett were up more than 25 percent.
Ms. Martore added on a conference call with analysts that she began talking with her counterpart at Belo, Dunia A. Shive, some time ago. The two eventually concluded that a merger to create one of the country's biggest providers of local broadcast television made sense, and eventually began exclusive takeover negotiations.
"This is a true win-win," Ms. Martore said on the call.
She added that Gannett may look at more opportunities to buy up television stations, though Belo stood out as uniquely compelling.
The deal is expected to close by the end of the year, subject to approval by regulators.
JPMorgan Chase and the law firms Nixon Peabody and Paul Hastings advised Gannett. RBC Capital Markets and the law firm Wachtell, Lipton, Rosen Katz advised Belo.
Article source: http://dealbook.nytimes.com/2013/06/13/gannett-to-buy-belo-for-1-5-billion/?partner=rss&emc=rss