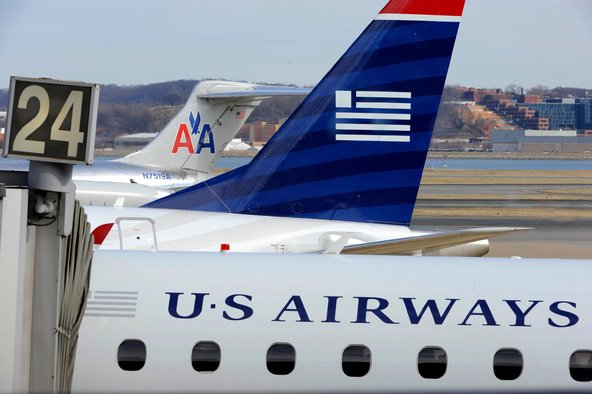 Mike Theiler/ReutersUS Airways Express and American Airlines planes at the Reagan National Airport near Washington.
8:53 a.m. | Updated
Ending a yearlong courtship by US Airways, American Airlines agreed to merge with the smaller carrier, paving the way for the creation of the nation's largest airline.
The boards of the companies have unanimously approved the deal, valued at $11 billion, according to a news release on Thursday morning. A merger would bolster American's domestic footprint, strengthen its presence in the Northeast and give it a bigger network to attract business travelers and corporate accounts.
Under the terms of the deal, US Airways shareholders would own 28 percent of the combined airline, while American Airlines shareholders, creditors, labor unions and employees would own 72 percent.
The merger would create a company with the size and breadth to compete against United Airlines and Delta Air Lines, which have grown through mergers of their own in recent years and are currently the biggest domestic carriers. The combined airline will have more than 100 million frequent fliers.
But while United and Delta went through bankruptcies and mergers in the last decade, American has been steadily losing ground while racking up losses that have totaled more than $12 billion since 2001. It was the last major airline to seek court protection to reorganize its business, filing for bankruptcy in November 2011.
The wave of big mergers in the industry has created healthier and more profitable airlines that are now better able to invest in new planes and products, including Wi-Fi, individual entertainment screens and more comfortable seats for business passengers. But some consumer advocates said they worried that reducing the number of airlines would lead to higher fares over the long run and allow airlines to increase revenue by imposing new or higher fees.
The deal, which was completed in recent days, could be formalized as American leaves bankruptcy. W. Douglas Parker, the chairman and chief executive of US Airways, would take over as American's chief executive. Thomas W. Horton, chairman and chief executive of the AMR Corporation, American's parent, would be chairman of the combined company, though his tenure could be limited.
"I have been a long proponent of consolidation in the industry," Mr. Parker said on a conference call. "And this is the last major piece needed to rationalize the industry and make it profitable."
Mr. Parker said that the two airlines have only 12 routes overlapping out of a combined 900 routes that the two airlines serve together. In addition, he said, more cities would be service: American flies to 130 cities that US Airways does not fly, and, likewise, US Airways flies to 62 cities that are not served by American.
"This is an extremely complementary merger," Mr. Parkersaid.
The combined airline will offer 6,700 daily flights to 336 destinations in 56 countries. It said that it expected to keep all its hubs.
The merger still needs to pass several steps. It must be approved by American's bankruptcy judge in New York. US Airways shareholders would also have to approve the deal.
In addition, it will be reviewed by the Justice Department's antitrust division, though analysts expect regulators to clear the deal. The two companies expect the merger be completed in the third quarter.
If approved, the nation's top four airlines — American, United, Delta and Southwest Airlines — would control nearly 70 percent of the domestic market.
The merger is a victory for Mr. Parker. Over the last year, he persuaded American's creditors that the carrier needed to expand its network to compete. In April, he won the critical backing of American's three labor groups, which defied American's management and publicly endorsed a deal with US Airways.
The biggest challenge for the merged company, to be called American Airlines, will be to integrate operations over the next couple of years. That is no easy task since airline mergers are often rocky — involving complex technological systems, big reservation networks as well as large labor groups with different corporate cultures that all need to be seamlessly combined.
United angered passengers last year after a series of merger-related computer and reservation mistakes, and late and delayed flights.
Mr. Parker has done this before. In 2005, when he was the head of America West, he engineered a merger with the larger US Airways.
In this case, the merged American Airlines will still be based in Fort Worth and have a combined 94,000 employees, 950 planes, 6,500 daily flights, eight major hubs and total revenue of nearly $39 billion. It would be the market leader on the East Coast, the Southwest and South America. But it would remain a smaller player in Europe, where United and Delta are stronger. The merger does little to bolster American's presence in Asia, where it trails far behind its rivals.
American has major hubs in Dallas, Miami, Chicago, Los Angeles and New York. US Airways has hubs in Phoenix, Philadelphia and Charlotte, N.C., and has a big presence at Ronald Reagan National Airport in Washington.
In reviewing previous mergers, federal regulators have not focused on the overall size of the combined airline but instead looked at whether a merger would decrease competition in individual cities. To do so, regulators examine specific routes, or city-pairs, and look at whether a merger reduces the number of airlines there.
The last time the Justice Department challenged a merger was the proposed combination between United Airlines and US Airways in 2001. It rejected that on the ground that it would reduce consumer choice and possibly lead to higher fares.
Since then, the department has allowed a wave of big mergers that have reshaped the industry, said Alison L. Smith, a former antitrust official and now a partner in the law firm McDermott Will Emery.
American and US Airways only have about 12 overlapping routes, a figure that is unlikely to set off regulatory opposition, she said. One problem, however, could come up at National Airport, where the combined carriers hold a market share of about 60 percent. There, regulators might request that American give up some takeoff and landing rights before approving the merger.
Regulators sought similar concessions from United at Newark Liberty International Airport after its merger with Continental Airlines.
It is also unclear whether American needs all of its combined hubs. Analysts pointed out that Phoenix was at risk because of its proximity to Dallas, since it makes little sense to have two big hubs so close to each other.
Despite the increased concentration, consumers can still expect to find vibrant competition, said William S. Swelbar, a research engineer at the Massachusetts Institute of Technology's International Center for Air Transportation.
"We will have four very big, very vigorous competitors in the market," he said.
Travelers are better served by bigger airlines offering more connecting flights and more destinations, analysts say. Consumers today can easily compare fares and shop for the cheapest flight online, which helps keep airfares in check.
But Kevin Mitchell, chairman of the Business Travel Coalition, disagreed. He said consumers would see few benefits to offset the merger's negative effects — including "reduced competition, higher fares and fees, and diminished service to small and midsize communities."

Michael J. de la Merced contributed reporting.
A version of this article appeared in print on 02/14/2013, on page B1 of the NewYork edition with the headline: Air Carriers Are Said To Agree To a Merger.
Article source: http://dealbook.nytimes.com/2013/02/13/american-and-us-airways-said-to-vote-for-merger/?partner=rss&emc=rss