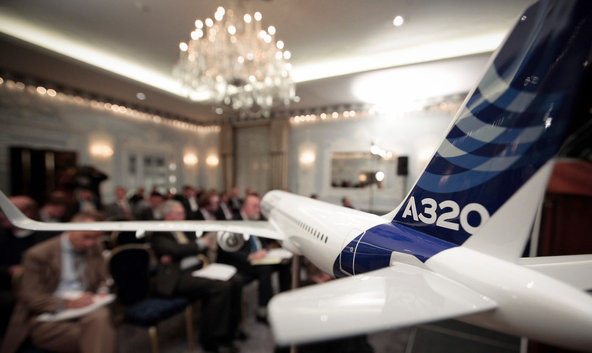 Jason Alden/Bloomberg NewsA model of an Airbus A320 aircraft was on display during a company news conference in London last year.
LONDON – The aerospace giant EADS confirmed on Wednesday that it was merger talks with its British rival, BAE Systems.
Under the terms of the proposed deal, shareholders of EADS, which manufactures the Airbus passenger aircraft, would own 60 percent of the combined company, while BAE Systems shareholders would control the remaining 40 percent. The combined market value of the two companies is $49.8 billion.
The companies said the merger would lead to cost savings and potential new business opportunities, according to a joint statement. Before completing the deal, EADS said it would pay its shareholders £200 million ($322 million) to align its dividend payouts with those of BAE Systems.
As both aerospace companies operate in the global defense industry, the proposed deal would build a fence around certain activities, particularly in the United States, to take into consideration national security issues, the companies added.
Under British law, the companies have until Oct. 10 to decide whether to pursue the merger.
Shares in BAE Systems had risen 10.8 percent by the end of trading in London on Wednesday, while those of EADS were down 5.6 percent.
News of the merger talks was reported earlier on Wednesday by Bloomberg News.
Article source: http://dealbook.nytimes.com/2012/09/12/bae-systems-and-eads-say-they-are-in-merger-talks/?partner=rss&emc=rss