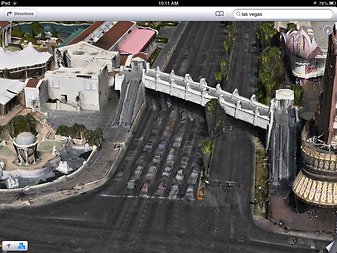 theamazingios6maps.tumblr.com A melting map of Las Vegas.
People pining for a Google Maps app on their Apple devices will get one eventually, but likely not for another couple months or so.
Google is developing a maps application for iPhone and iPad that it is seeking to finish by the end of the year, according to people involved with the effort who declined to be named because of the nature of their work. There has been widespread speculation about whether and when Google would release a maps application for Apple devices since Apple released a new version of its iOS operating system with an Apple-made maps service.
One reason that it will take Google some time to build the iPhone app: it expected the app with Google's maps to remain on the iPhone for some time, based on the contract between the two companies, and was caught off guard when Apple decided to build a new application to replace the old one.
Apple's service has been widely ridiculed for inaccuracies in addresses, mislabeled landmarks and other mistakes. It has been compared unfavorably to Google Maps, which previously supplied mapping services to iOS users through an app Apple bundled with the devices. Apple has said its new service will improve over time.
Publicly, Google has been cagey about whether it will provide Google Maps for iOS devices as an app, beyond saying that it wants to provide its maps to users on any device they use. On Tuesday in Tokyo, Eric Schmidt, the executive chairman of Google, said the company had made no move to submit a Google Maps app for the iPhone.
But Google does intend to build a Google Maps app for iOS, according to people who have been involved in an effort to create the app.
There are several complicating factors to Google's development of the app. Google's contract with Apple to keep the maps app on the iPhone had more time remaining, and Google did not know that Apple had changed its mind until Apple said publicly in June that it would replace the app with its new maps app, according to two people briefed on the decision. Google is now navigating business relationships with Apple that grow more tricky by the day.
Another complication, according to a person with knowledge of Google Maps: Google would likely prefer to release a maps app that includes 3-D imagery so it is comparable to Apple's. But Google has 3-D images in Google Earth, which is a separate app with a separate code base from Google Maps, so it would take some time to combine the two.
The Verge earlier reported some details of Google's iOS maps efforts.
Article source: http://bits.blogs.nytimes.com/2012/09/25/google-working-on-maps-for-iphone-ipad/?partner=rss&emc=rss