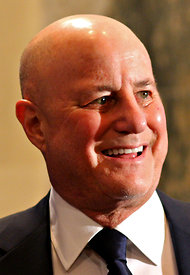 Yana Paskova for The New York TimesRonald O. Perelman
Personal assistants on Wall Street inhabit a secretive world, with daily access to the private lives of the powerful.
A rare window opened onto that world on Wednesday, when Nancy Link, the longtime personal assistant of the deal maker Donald Drapkin, took the stand in the Federal District Court in Manhattan to testify in a lawsuit against Mr. Drapkin's former boss Ronald O. Perelman over roughly $16 million Mr. Drapkin says he is owed.
Described by Mr. Drapkin as a "miracle worker," Ms. Link, 61, has overseen nearly all aspects of her boss's personal life, handling his finances, organizing his e-mails and even taking care of his children and grandchildren. Her relationship with Mr. Drapkin, forged over 25 years, mostly at MacAndrews Forbes, Mr. Perelman's holding company, was built on trust.
"Colloquially, I would say she ran my life," Mr. Drapkin said.
Dressed in a pink shirt and black cardigan sweater, with shoulder-length blond hair and an ornate diamond ring on her right hand, Ms. Link described how she would go home to Roseland, N.J., every night after work at MacAndrews, carrying her laptop in a rolling briefcase that her chiropractor had recommended she use.
Ms. Link, who has a high school education and completed some college, first met Mr. Drapkin in 1986, when she was working at Pan American World Airways, and became his assistant the following year. In court this week, the two appeared to trust each other deeply. At one point, Mr. Drapkin, who now runs a hedge fund in New York, referred to Ms. Link as his "secretary," but corrected himself to say "administrative assistant."
"I work hard all the time," Ms. Link said on Wednesday, with a degree of confidence that was rare in her testimony.
Her work has come under legal scrutiny.
The fight between Mr. Drapkin and Mr. Perelman, two wealthy financiers who were once the best of friends, concerns payments that Mr. Drapkin says he is owed under a 2007 separation agreement, signed when Mr. Drapkin left MacAndrews. Lawyers for the holding company argued this week that Mr. Drapkin had broken his obligations under the contract, while Mr. Drapkin's lawyers accused his former boss of "nitpicking."
Ms. Link is at the center of the dispute. Her daily routine at MacAndrews included backing up Mr. Drapkin's e-mails onto an external hard drive, copying them from her laptop. While Ms. Link said in court that "99 percent" of the e-mails she saved regarded Mr. Drapkin's personal life, lawyers for MacAndrews contend that the documents included confidential information that Mr. Drapkin, after leaving the company, was not allowed to possess.
Ms. Link was peppered with questions about her computer literacy, and she said that her understanding of her daily backup process was limited. The company bought a backup device for her years ago, she said, after a computer failure caused her to lose nine months of work.
Complicating matters, the hard drive in question no longer exists. Ms. Link threw it in the trash, she said, one day when she assumed it was broken. She took a hammer from a closet, she said, and smashed it.
Lawyers zeroed in on this incident, subjecting Ms. Link to a barrage of questions and playing a videotape of her earlier deposition. Her explanation was simple.
"I said, 'This isn't working,'" she said. "So I threw it away."
Article source: http://feeds.nytimes.com/click.phdo?i=0e3b0841aaddaad1eed71bc2fa8f7631