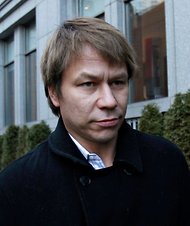 Shannon Stapleton/ReutersFederal prosecutors say Jon Horvath was part of a seven-person conspiracy.
5:59 p.m. | Updated
The billionaire investor Steven A. Cohen and his hedge fund, SAC Capital Advisors, are again in the spotlight over insider trading crimes committed by former employees.
Jon Horvath, a onetime technology industry analyst at SAC, pleaded guilty on Friday to insider trading a month before his scheduled trial. He is the fourth former SAC employee to admit to illegal trading while employed at the fund, which manages $14 billion. SAC has been a focus of federal authorities since the government began its crackdown on insider trading at hedge funds five years ago.
The admission by Mr. Horvath, who entered his guilty plea in Federal District Court in Manhattan, increases the pressure on the co-defendants in his case: Anthony Chiasson, who was a co-founder of Level Global Investors, and Todd Newman, a portfolio manager at Diamondback Capital Management.
Federal prosecutors contend they were part of a seven-person conspiracy — a "circle of friends" — that earned about $62 million in illegal gains trading on secret tips from executives at publicly traded technology companies. Mr. Horvath, 42, is the fifth person to plead guilty and cooperate with the government. Several of the cooperators are expected to testify against Mr. Chiasson and Mr. Newman at their trial, which is set for Oct. 29.
Mr. Horvath's guilty plea also puts the focus on another SAC trader. Michael Steinberg, who supervised Mr. Horvath at SAC, emerged as an unindicted co-conspirator in the case last week.
During his court appearance on Friday, Mr. Horvath said that he obtained confidential information about the technology companies Dell and Nvidia and then "provided the information to the portfolio manager I worked for and we executed the trades based on that information." That portfolio manager is Mr. Steinberg, according to two people with direct knowledge of the matter who requested anonymity.
Mr. Steinberg, 40, is one of Mr. Cohen's longtime lieutenants, having worked at SAC since 1997. Barry H. Berke, a lawyer representing Mr. Steinberg, declined to comment.
"Until today, Mr. Horvath maintained he had not violated the law and we gave him the benefit of the presumption of innocence," said Jonathan Gasthalter, an SAC spokesman. "We are disappointed and angered to learn Mr. Horvath admittedly violated the law and SAC's policies forbidding insider trading. We expect our employees to have integrity, play by the rules and follow the letter and spirit of the law."
Steven R. Peikin, a lawyer for Mr. Horvath, declined to comment. John A. Nathanson, a lawyer for Mr. Newman, and Gregory Morvillo, a lawyer for Mr. Chiasson, also declined to comment.
Though he has not been charged in the case, Mr. Steinberg is now the fifth employee or former employee of SAC tied to insider trading while at the fund. Last year, two former SAC portfolio managers — Donald Longueuil and Noah Freeman — admitted to trading on illegal tips about publicly traded technology companies. Mr. Longueuil is serving a two-and-a-half-year jail term at a federal prison in Otisville, N.Y.; Mr. Freeman, who is cooperating with prosecutors, has yet to be sentenced.
Jonathan Hollander, a former SAC analyst, paid more than $220,000 to settle civil charges brought by the Securities and Exchange Commission accusing him of trading in his personal account on confidential information about the takeover of the Albertsons grocery store chain.
Several of Mr. Horvath's co-conspirators also have deep SAC connections. Mr. Chiasson left SAC to co-found Level Global, which closed last year. Mr. Newman's fund, Diamondback, was started by SAC alumni, including Mr. Cohen's brother-in-law, Richard Schimel. Diamondback remains in business, and Mr. Schimel has not been implicated in the case.
Mr. Cohen and SAC have not been accused of wrongdoing. The fund, based in Stamford, Conn. with about 1,000 employees, has a 20-year track record that is one of the best investment records in the hedge fund industry. The fund is up about 8 percent year-to-date.
SAC has an unconventional structure. Unlike other hedge fund managers that make all the investment decisions, Mr. Cohen manages less than 10 percent of the fund's money, distributing the rest to about 140 small teams. It is a high-pressure culture where Mr. Cohen will reward teams that perform well with increased allocations, while underperformers can get cut back or lose their jobs. The more money a team manages, the greater its potential earnings.
His success as a stock picker has made Mr. Cohen, 56, one of the richest people in the country, with a net worth of $8.8 billion, according to Forbes magazine. He has also minted a stable of multimillionaires; in profitable years, top traders at SAC have earned tens of millions of dollars.
Mr. Horvath, who now resides in San Francisco, faces a maximum sentence of 45 years in prison, though he is expected to receive a far more lenient sentence. He is a citizen of Sweden, and could face deportation after serving time.
The charges against Mr. Horvath are part of a sweeping investigation into insider trading at hedge funds by federal authorities in Manhattan. The crackdown has resulted in criminal cases against 72 people. With Friday's guilty plea, 69 of those cases have resulted in convictions.
---
This post has been revised to reflect the following correction:
Correction: September 28, 2012
An earlier version of this article misspelled the surname of Steven A. Cohen's brother-in-law. It is Richard Schimel, not Shimel.
Article source: http://dealbook.nytimes.com/2012/09/28/ex-sac-analyst-pleads-guilty-in-insider-trading-conspiracy/?partner=rss&emc=rss