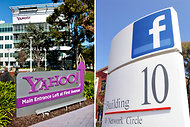 Ryan Anson/Bloomberg News and Jim Wilson/The New York TimesThe headquarters for Yahoo in Sunnyvale, Calif., and Facebook in Menlo Park, Calif.

Yahoo and Facebook agreed on Friday to settle a legal fight over their patent holdings, ending what was shaping up to be one of the nastier court battles in Silicon Valley in recent memory.
Under the terms of the pact, the two companies will expand an existing partnership, including a deeper integration of Facebook's tools into Yahoo's content pages.
The two companies have also agreed to cross-license all their patent holdings, which would keep either side from suing the other over intellectual property issues in the future, a person close to one of the companies said.
What the agreement does not include is any sort of cash payout by Facebook, a win for the company.
The pact is intended to heal a rift between two companies that less than a year ago had begun an extensive collaboration. As part of the agreement, Yahoo and Facebook have agreed to work together to promote big events, hoping to draw increased advertising revenue.
"We are looking forward to building on the success we have already seen to provide innovative new products and experiences for both consumers and sponsors," Ross B. Levinsohn, Yahoo's interim chief executive, said in a statement. "Combining the premium content and reach of Yahoo as the world's leading digital media company with Facebook provides branded advertisers with unmatched opportunity."
Patents have increasingly become a focal point as companies like Apple and Eastman Kodak have turned to suing rivals over intellectual property claims. But such moves are often frowned upon within Silicon Valley. Yahoo took many by surprise earlier this year when it threatened to sue Facebook, claiming that it had violated some of its oldest Web technologies. Yahoo filed suit in March, citing 10 patents in particular.
Several technology commentators criticized Yahoo as a "patent troll" that was simply seeking a big payday.
Analysts also expressed surprise, given that Yahoo's use of Facebook tools appeared to have improved its own business. Integrating Facebook's news activity feature into Yahoo pages, for instance, tripled Yahoo's traffic from Facebook between September and December of 2011.
At the time, Yahoo argued that it was simply trying to protect its intellectual property.
Facebook countersued in April, claiming that Yahoo had breached some of its own patents, some of which the company had purchased.
Yahoo's original legal campaign was masterminded by Scott Thompson, then the company's chief executive. The lawsuit was filed at a particularly delicate time for Facebook: about two months before the company was set to go public.
In 2003, Yahoo acquired Overture, a search advertising technology company that had sued Google over patent issues. Yahoo settled the fight the next year, collecting 2.7 million shares from Google before the search giant went public.
But Facebook was prepared to wage a long and costly fight to protect itself against Yahoo's lawsuit, people close to the company have said.
Settlement talks began shortly after the resignation of Mr. Thompson in May, following the revelation that his academic credentials had been misstated. Soon after becoming interim chief executive, Mr. Levinsohn contacted Sheryl Sandberg, Facebook's chief operating officer, to begin negotiating a truce, according to people briefed on the matter.
Among Mr. Levinsohn's concerns was that the patent fight was a distraction from the company's focus on turning itself around, these people said.
The two sides spent several weeks working on the outlines of a potential agreement, including at the sidelines of the AllThingsD conference in May, these people said.
On Friday, Yahoo's board — including directors who previously supported the company's lawsuit — unanimously approved the settlement, one of the people briefed on the matter said.
"I'm pleased that we were able to resolve this in a positive manner and look forward to partnering closely with Ross and the leadership at Yahoo," Ms. Sandberg said in a statement.
"Together, we can provide users with engaging social experiences while creating value for marketers."
Shares of Yahoo dipped slightly on Friday, to $15.78, while those of Facebook rose nearly 1 percent, to $31.73.
Article source: http://dealbook.nytimes.com/2012/07/06/yahoo-and-facebook-said-to-settle-patent-lawsuits/?partner=rss&emc=rss