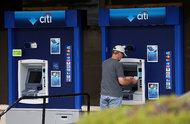 Justin Sullivan/Getty ImagesA Citibank branch in San Rafael, Calif.
The Federal Reserve hit Citigroup with an enforcement action on Tuesday over breakdowns in money laundering controls that threatened to allow tainted money to move through the United States.
The Federal Reserve, acting as a banking regulator, took aim at Citigroup and its subsidiary Banamex USA over failure to monitor cash transactions for potentially suspicious activity. Under the Bank Secrecy Act, financial institutions like banks and check-cashing services must report any cash transaction of more than $10,000 and bring any dubious activity to the attention of regulators.
The federal law also requires banks to have complex controls in place to detect any criminal activity. Porous monitoring, the authorities say, can enable drug dealers and terrorists to launder money through the United States.
Citigroup and Banamex USA, the American branch of its Mexican unit, did not admit wrongdoing, and no fines were issued Tuesday related to the lapses.
As part of a broad crackdown on the movement of illicit funds through the United States, the Justice Department and the Manhattan district attorney's office has aimed at foreign banks that have branches on American soil. Prosecutors have accused several foreign banks of flouting United States law by funneling billions of dollars on behalf of sanctioned nations, like Iran and North Korea.
The Federal Reserve faulted Citigroup for lacking "effective systems of governance and internal controls to adequately oversee the activity." Under the action, the bank's board must outline a plan to fortify its monitoring of transactions and bolster its compliance program, including how to finance a "compliance risk management program that is commensurate with the compliance risk profile of the organization."
The move by the Federal Reserve builds on a cease-and-desist order brought against the bank by the Office of the Comptroller of the Currency in April. In that order, the comptroller, Citigroup's primary regulator, demanded that the bank improve its anti-money laundering controls. The comptroller accused the bank of violating the Bank Secrecy Act, a federal law that requires banks to rout out tainted cash by filing suspicious-activity reports.
"Citi has made substantial progress" in improving its compliance and addressing money laundering risks "in a comprehensive manner across products, business lines and geographies," a bank spokeswoman said. "Citi continues to take the appropriate steps to address remaining requirements and build a strong and sustainable program."
In December, HSBC agreed to a record $1.92 billion deal with authorities to settle accusations that it transferred billions of dollars for nations like Iran and enabled Mexican drug cartels to move money illegally through its American subsidiaries.
For Citi, the action is the first anti-money laundering action since Michael O'Neill, the bank's powerful chairman, abruptly deposed Vikram S. Pandit as chief executive last year and replaced him with Michael L. Corbat.
Under Mr. Pandit, Citigroup, which has a vast international footprint, worked to strengthen controls against dubious money moving through the bank, including by centralizing audit and compliance functions.
Article source: http://dealbook.nytimes.com/2013/03/26/federal-reserve-faults-citigroup-over-money-laundering-controls/?partner=rss&emc=rss