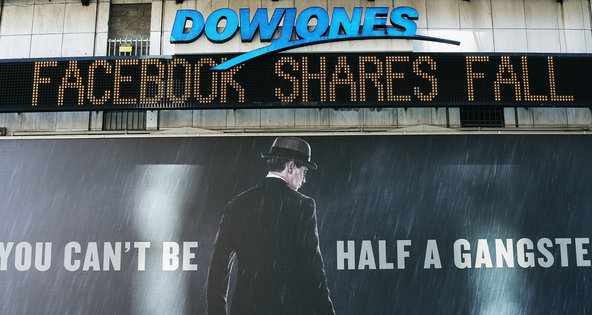 Mario Tama/Getty ImagesFacebook's stock price fell on Thursday after some 271 million shares owned by early investors were free to be sold as a lockup period ended.
Want to better understand the crazy world of technology stocks? That requires having a grasp of something that can best be described as the curse of the ordinary.
That curse could mean that Facebook, which is already down by nearly 50 percent from its offering price to $19.05 on Friday, could drop even further.
It's all about valuations.
Most efforts to judge the right stock market value for a company rely on profit forecasts. But earnings at young technology companies are harder to predict than at businesses using traditional approaches to generate earnings in other industries.
In times of optimism, that knowledge dearth can actually work to the advantage of technology companies. Executives fill that emptiness with promises of paradigm-breaking ways of doing business, prompting Wall Street analysts to project amazing profits. Investors get excited and flock to their stock debuts. In short, it's all about being seen as extraordinary.
That magic allowed Facebook to go public at a stock price that was an astronomical 100 times its earnings per share. Back in May, investors seemingly had little trouble believing that Facebook could entwine advertising into all interactions on its site and generate extraordinary revenue.
Indeed, each of the companies that have gone public in recent months has needed one main magical story. For Groupon, it was that the company had found a revolutionary marketing tool that was perfect for small businesses. The untapped market was theoretically huge.
But the nightmare begins when investors stop believing in that central story. Earnings don't have to be terrible, and they haven't been at the hardest hit firms — Facebook, Groupon and Zynga, the online game company. The earnings just have to contain a few clues that the dream won't be achieved.
Then, the transition from extraordinary to ordinary is brutal.
Groupon is down 75 percent from its initial public offering. The market now values it as if it were any old marketing company; its shares are trading at 12 times the earnings that analysts are projecting for 2013, according to data from Thomson Reuters.
This is a critical time for Facebook.
The faith level in the company is declining. Right now, Facebook is trading at 31 times the earnings that analysts are expecting for 2013. That's not too expensive, but it's far above Google's 2013 price-to-earnings ratio of 14 times.
One reason investors have fled the stock is that Facebook's second-quarter earnings showed few signs that it was close to achieving meteoric growth. "There have been almost no positive signals at Facebook in the past six months," said Anup Srivastava, an assistant professor at the Kellogg School of Management at Northwestern University. He thinks Facebook shares should be worth about $12, based on his estimates of the company's future cash flows.
Such a fate may seem unthinkable, given how far the stock has already fallen. But Facebook may struggle to keep pace with Google, which, though it is a more mature Internet company, is still finding ways to grow fast. In its second quarter, the volume of "paid clicks" (the number of times users click on a link that generates revenue for Google) rose 42 percent from the year-earlier period. That's the fastest growth since 2007, according to analysts at Nomura. And despite its extraordinary growth, investors still give Google's shares only an ordinary valuation.
But there's still hope for Facebook.
Negativity can feed on itself in the stock market, and the over-optimism of the I.P.O. may simply have been replaced with rabid pessimism today. "As with most other young growth stocks, no one really knows Facebook's value," said Aswath Damodaran, a professor of finance at the New York University Stern School of Business. "That means people can overreact in both directions."
There are ways to get back into investors' good graces. One is for Facebook to be more convincing when explaining why it's special.
Since its own I.P.O., LinkedIn has kept investors enthralled. The company trades at 79 times projected 2013 earnings, a clear sign that the market believes the company has created a revolutionary space for companies to recruit.
Then there's Amazon.com, which is extraordinarily talented at projecting itself as extraordinary. Its shares trade at 100 times its projected 2013 earnings, even though it has reported what might look like disappointing earnings for several years. The dream is that Amazon is well on its way to dominating Internet commerce, and can look forward to prodigious profits.
Amazon.com also shows there's a way to get investors believing again. Its shares plunged amid fears that it could go bankrupt soon after the dot-com boom of the late 1990s, but in the last 10 years it has regained extraordinary status.
Facebook could use some of that Amazon magic.
Article source: http://dealbook.nytimes.com/2012/08/17/finding-the-facebook-magic/?partner=rss&emc=rss