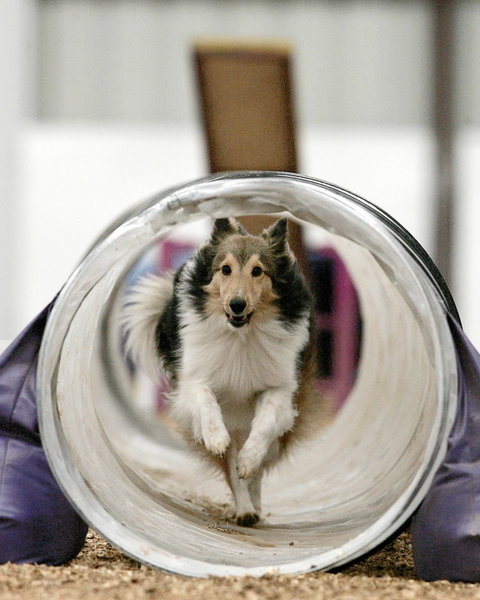 Associated Press
What could be more comforting than heading out of town and leaving your dog not at a cramped kennel, but at the home of a canine-loving friend?
That's the idea behind DogVacay, an online site that matches dog owners with dog lovers willing to take in pets and care for them temporarily, for a fee that's often less than commercial boarding. DogVacay takes a 15 percent commission on each booking.
The site started more than a year ago as a sort of canine version of Airbnb, the peer-to-peer lodging site for humans. Aaron Hirschhorn, DogVacay's chief executive and co-founder, said in an interview that DogVacay now had 10,000 hosts making an average of $1,000 a month.
DogVacay's appeal to hosts is that it's a relatively easy way for animal lovers to supplement their income. After all, if you've already got one dog, hosting another for a few days isn't adding too much extra work. Mr. Hirschhorn says it's also a way for those who love dogs, but don't have time to own one full time, to spend time with animals.
As with some other peer-to-peer services, however, DogVacay's model raises some questions for potential dog hosts to consider. For starters, there's the issue of insurance. Claims for dog bites can be quite costly, as recent data show.
Traditional homeowner's insurance policies include liability coverage that protects you in the event that your own dog bites someone. But such policies wouldn't cover you if you are hosting someone else's dog for a fee and that dog bites someone, says Loretta Worters, a spokeswoman for the Insurance Information Institute, an industry group.
"If you are hosting dogs and accepting fees, then that's a business," Ms. Worters said in an e-mail. "And if it's a business, then you wouldn't be covered under your homeowner's policy."
Rather, you would need to purchase specialty "pet business" insurance, which covers groomers, kennels, dog sitters, dog walkers and dog boarders. (You can also add "animal bailee" coverage, she said, which pays for the direct loss of animals that a client leaves in your care.
Those who rent out their homes or apartments would also need specialty coverage, she said, even if they had renter's insurance.
DogVacay's Web site says it includes "complimentary" insurance for hosts and guests with every booking. The free version covers veterinary care for guest dogs and dogs owned by the host, up to $2,000; it doesn't, however, include liability coverage for the host.
Hosts can pay to upgrade to "premium" insurance that does include liability coverage of up to $4 million, said Mr. Hirschhorn. The coverage is offered through Kennel Pro, an affiliate of the insurer Mourer-Foster.
DogVacay's site links to Kennel Pro's site, which says its policies start at $350 a year, which sounds a bit steep for someone hosting a dog only occasionally. But Mr. Hirschhorn said DogVacay was able to offer expanded coverage for $48 a year to its hosts through a special arrangement with the carrier. (The more affordable premium isn't cited on the Web site.) The fee is deducted from the first booking, so hosts don't have to pay the premium upfront, he said. He estimated that half of DogVacay's hosts bought the upgraded coverage.
DogVacay also urges hosts to have a "meet and greet" with potential boarders before accepting them, to make sure they are comfortable with the animal's temperament and that it is compatible with any pets already in the home.
Local property-use regulations may also come into play (as some Airbnb hosts recently discovered). Every city has a different set of regulations, Mr. Hirschorn said, but, "In general we don't find it to be an issue."
Still, knowing what the rules are for your neighborhood seems wise. While neighbors aren't likely to gripe if you have an extra dog from time to time (if they're even aware of it), they might complain if the guest dog is especially loud or troublesome, or if you are hosting multiple dogs.
DogVacay advises hosts to do their own research to find out what local regulations say, and Mr. Hirschhorn said the site's customer service representatives were also available to help. "We want people to call," he said.
Have you hosted a dog using DogVacay or a similar service? How are you addressing the insurance question?
Article source: http://bucks.blogs.nytimes.com/2013/05/29/hosting-a-dog-check-your-insurance-coverage/?partner=rss&emc=rss