Fisker Automotive, the struggling manufacturer of luxury plug-in hybrid cars, has chosen Tony Posawatz, who led the development of the Chevrolet Volt, as chief executive, the company announced in a teleconference on Tuesday.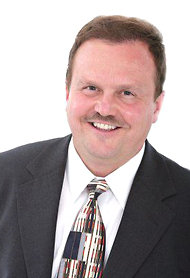 Fisker AutomotiveTony Posawatz.
Mr. Posawatz, who recently retired from General Motors after a 32-year career, will succeed Tom LaSorda, the former Chrysler and General Motors executive who became Fisker's chief just five months ago.
"He will take the company to the next level," Mr. LaSorda, who will remain involved with the company as an adviser, said during the teleconference. "He was the leading guy in Volt from start to finish, so we recruited him. He came in with eyes wide open."
The move is viewed by some within the industry as a coup for the start-up, based in Anaheim, Calif.
"He's extremely talented, basically the father of the Volt," Aaron Bragman, a senior analyst for the research and consulting firm IHS Automotive, said of Mr. Posawatz. "He's experienced in developing electric vehicles, and he works well in start-ups."
Mr. Posawatz joined G.M. in 1980, advancing from assembly-plant foreman to the executive level, as vehicle line director for several G.M. products.
The appointment might also be construed as a step forward for a company that has suffered setbacks in its quest to be regarded as an independent technological leader. The latest was a fire in Woodside, Calif., involving the Karma sedan, the company's only production vehicle, which is under investigation.
In December, Fisker announced a recall of the Karma to address a fire hazard involving its lithium-ion batteries, supplied by A123 Systems of Waltham, Mass., and Livonia, Mich. The recall was expanded in June, bringing the total of affected vehicles to 258. The company traced the problem to improperly positioned hose clamps, which could leak coolant onto the battery unit and cause an electrical short.
In a statement issued on Monday, Fisker said it was trying to determine the cause of the fire, which destroyed the left-front side of the Karma in Woodside, but emphasized that the battery pack and engine were not to blame.
Fisker has sold roughly 1,000 Karmas, which start at approximately $103,000 and are built in Finland, since last fall.
Mr. Posawatz's engineering experience with hybrid powertrains will be brought to bear on Fisker's next vehicle, the Atlantic, a sedan that was previewed in conceptual form in April during the New York auto show. Initial plans called for the Atlantic to be built in Wilmington, Del., at a plant previously owned by General Motors. In the teleconference, Henrik Fisker, the start-up's founder and executive chairman, had no news of that prospect. "We're still preparing," he said, without elaboration.
Fisker requires hundreds of millions of dollars to restaff and resume retooling the factory, which it idled in February after failing to meet preconditions of a $529 million federal loan provided to the company by the Energy Department. The automaker has said that the resumption of federal loan disbursals, however, was not a prerequisite for introducing the Atlantic. Fisker said it raised $392 million from private sources earlier this year.
Despite Fisker's proclamations of health, Tuesday's executive movements are not necessarily consistent with a company that is poised for rapid growth. "Right now, Fisker should be ready to fill that empty plant with the next-generation vehicle," Mr. Bragman of IHS said. "But the addition of Tony, a development man, and departure of LaSorda, a manufacturing guy, makes me wonder whether they're ready for that stage yet."
---
This post has been revised to reflect the following correction:
Correction: August 15, 2012
An earlier version of this post rendered part of a quotation from Mr. Bragman inaccurately. He called Mr. LaSorda "a manufacturing guy," not "a development guy."
A version of this article appeared in print on 08/15/2012, on page B2 of the NewYork edition with the headline: Fisker Appoints a Chief With Complementary Roots.
Article source: http://wheels.blogs.nytimes.com/2012/08/14/fisker-names-tony-posawatz-who-led-development-of-chevy-volt-its-new-chief-executive/?partner=rss&emc=rss