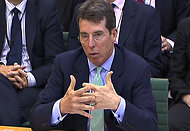 Pool photograph by Agence France-PresseRobert E. Diamond Jr. on Wednesday before a British parliamentary committee investigating rate manipulation at Barclays.
LONDON — Robert E. Diamond Jr., the former chief executive of Barclays, defended the bank's response to a rate-manipulation scandal as he testified on Wednesday before a British parliamentary committee.
Mr. Diamond, who resigned on Tuesday after the bank reached a $450 million settlement with American and British authorities related to the manipulation of key interest rates, said the actions of 14 traders at the bank that were connected with the scandal had made him "physically sick."
The American-born banker tried to deflect attention from the firm's role in the continuing investigation by authorities, noting that other major global financial institutions had also been implicated.
Mr. Diamond, who said he was notified about the fines and civil penalties a few days before the settlement was made public on June 27, also placed some of the blame on regulators.
He said the bank had raised concerns many times with American and British authorities about how Libor — the London interbank offered rate, a measure of how much banks charge each other for loans — was set.
"I can't sit here and say no one in the industry didn't know about the problems with Libor," Mr. Diamond said. "There was an issue out there and it should have been dealt with more broadly."
British politicians focused their questions on Mr. Diamond's role in the scandal. The former Barclays chief, who initially appeared nervous giving his testimony but gradually became more comfortable during nearly three hours of questioning, took responsibility for the problems that occurred inside Barclays.
"To prevent further damage to the reputation of Barclays, I decided to step down," Mr. Diamond said, adding that he had made the decision on Monday evening when support from regulators and shareholders for his position at the bank began to wane.
He reserved his most angry words for the Barclays traders who had manipulated rates to benefit their own trading positions. Some of the individuals based in New York and London could still potentially face civil and criminal prosecutions.
"I am sorry, angry and disappointed," Mr. Diamond said, whose voice became increasingly emotional. "There's no excuse for the traders' actions. This is wrong, and I'm not happy about it."
He reiterated that he had not instructed senior executives to suppress the bank's Libor submissions.
Mr. Diamond described a phone call he received at the end of October 2008 from Paul Tucker, an official at the Bank of England, Britain's central bank. Mr. Tucker questioned why Barclays was submitting rates consistently higher than those of rival banks, a sign of relatively poor health.
Mr. Diamond then e-mailed Jerry del Missier, a top deputy, about the conversation, saying that Mr. Tucker stated it "did not always need to be the case that we appeared as high as we have recently," according to documents released by the bank.
Mr. del Missier, who also resigned on Tuesday, then directed employees to keep the submissions lower, or at least in line with those of rivals. His actions, some regulators say, were a result of a "miscommunication," rather than instructions from Mr. Tucker.
"I was unaware that Jerry had the impression that Tucker's phone call was taken as an instruction," Mr. Diamond told the committee.
Mr. Tucker, who is the front-runner to take over as governor of the Bank of England, on Wednesday made a request to testify to the committee about his role in the Barclays scandal.
Politicians also asked Mr. Diamond whether he would give up any further bonuses or payments as part of his resignation package. The former Barclays chief said that any changes would be a question for the bank's board.
Mr. Diamond was awarded £6.3 million, or $10.3 million, in pay and perks for last year, and British politicians have warned that any so-called golden parachute for leaving his post would be unacceptable.
"It would be completely wrong if people leaving under these circumstances were given some vast payoff," Prime Minister David Cameron told Parliament on Wednesday. "It would be completely inexplicable to the public. I hope that won't happen."
Article source: http://dealbook.nytimes.com/2012/07/04/diamond-defends-barclays-response-to-interest-rate-scandal/?partner=rss&emc=rss