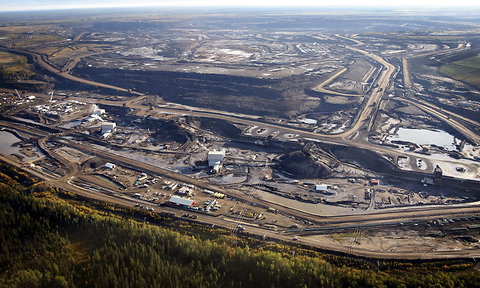 Associated PressAn oil sands mining operation near Fort McMurray, Alberta.

HOUSTON — In a bid to make oil sands production less polluting, Royal Dutch Shell announced on Wednesday that it would go forward with the first carbon capture and storage project ever tried in the fields of western Canada.
The announcement of the Quest project after years of study comes just months before Washington will reconsider whether to approve the Keystone XL pipeline to increase imports of heavy oil from the oil sands. Environmentalists have fought the project, arguing that refining and burning oil from the oil sands emit far more carbon than conventional oil.
The project, which is scheduled to begin operations by 2015, is intended to capture and permanently store underground more than a million tons of carbon dioxide a year, which Shell estimated was equivalent to taking 175,000 cars off the road. Carbon capture projects have lost favor in recent years because of concerns about their heavy costs, which have typically been subsidized by governments.
The Shell project, with an estimated cost of about 1.35 billion Canadian dollars ($1.36 billion), will be heavily subsidized by the Canadian federal government and the provincial government of Alberta, which together are putting in 865 million Canadian dollars (about $874 million) over more than a decade.
Shell said it was hoping to reduce the carbon emissions from a treatment plant in Scotford, outside Edmonton, that processes extra-heavy oil called bitumen so it can be shipped to refineries in the United States.
"We recognize that our growth requires that it be accompanied by improved environmental management," said John Abbott, Shell's executive vice president for heavy oil, at a news conference in Calgary, Alberta. "Quest is a very big part of that."
Mr. Abbott said that Quest would reduce the emissions from the Scotford plant by 35 percent and demonstrate the technical viability of carbon capture and storage techniques. He added that it would help lead to wider application "through the energy industry and other sectors in the years to come."
Canada is already the top source of imported oil for the United States and currently produces more than 1.7 million barrels a day of synthetic crude from oil sands. The country's leaders hope to more than double oil sands production by 2025. To accomplish that, they need the Keystone XL pipeline — which would run to Gulf Coast refineries — to export more oil to the United States, or they must build an alternative pipelines to Canada's western coast to export the crude to Asia.
President Obama rejected TransCanada's application for a permit to build the 1,700-mile, $7 billion Keystone XL pipeline in January, but the Canadian pipeline company is reapplying for a permit. Mitt Romney has said he will approve the pipeline if elected president. An improved environmental outlook for oil sands might well encourage President Obama to reconsider his initial rejection.
On Wednesday, TransCanada proposed a new route for the pipeline to avoid an environmentally sensitive region of prairie and sand dunes in Nebraska, reducing the length of its transit across the Ogallala Aquifer.
"We know the world is watching," Ken Hughes, Alberta's energy minister, said at the news conference. "We are deeply committed to reducing our greenhouse gas emissions."
The Canadian government estimates that carbon emissions from oil sands production and refining has declined by roughly 40 percent since 1990, but the process remains more carbon-intensive than for all but the heaviest conventional crude oils produced around the world.
Canadian and American environmentalists have been opposed to oil sands development because of concerns over pollution and the destruction of natural habitat for hundreds of bird species in the Canadian boreal forest. But at least some Canadian environmentalists have expressed support for the Quest initiative.
"We see it as one tool in the tool kit that we need to tackle climate change," said Ed Whittingham, executive director of the Pembina Institute, an influential Canadian environmental group. "We have been critical of oil sands but we are supportive of C.C.S.," he added, using shorthand for carbon capture and storage.
But Kate Colarulli, deputy director of the Sierra Club's Beyond Oil campaign, said the project would not change her opposition to the pipeline.
"It's a lot of taxpayer money spent on greenwashing," she said. "The truth is there is an environmental Armageddon happening in northern Alberta. There are also questions about whether these gases can be safely stored underground."
The Quest project will pipe liquefied carbon dioxide to injection wells and then store the substance nearly a mile underground under multiple layers of rock and mineral formations. The oil sands will originate from the Athabasca Oil Sands project, a giant mining endeavor operated by Shell in a partnership with Chevron and Marathon. The companies have not disclosed how much money they will invest in the project.
Graham van't Hoff, Shell's executive vice president for carbon dioxide and alternative energies, said in an interview that it was important that Canada make a large financial commitment because "there is not yet the economic justification on this scale of abatement."
"Government subsidies are needed to get things off the ground," he added.
Iain Pyle, an analyst at Sanford C. Bernstein in London, estimated that the project would probably break even with the government subsidies. "It's more a move to improve the environmental impact of the oil sands," he said.
Stanley Reed contributed reporting from London.
Article source: http://green.blogs.nytimes.com/2012/09/05/for-oil-sands-a-1-36-billion-carbon-capture-effort/?partner=rss&emc=rss