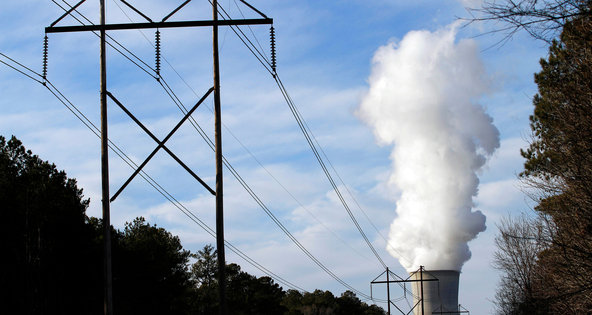 Jim R. Bounds/Bloomberg NewsThe Shearon Harris nuclear plant, owned by Duke Energy, in New Hill, N.C.
9:38 p.m. | Updated
A former board member involved in a merger that created the nation's largest electric utility has blasted an abrupt leadership change at the company.
"This is the most blatant example of corporate deceit that I have witnessed during a long career on Wall Street," said John H. Mullin III, the former lead director of Progress Energy, which completed its combination with Duke Energy this week.
On Monday, Duke closed its merger with Progress, a $32 billion deal, including debt, originally struck a year and a half ago. William D. Johnson, the head of Progress, was to become chief executive of the combined company, according to the terms of the merger agreement.
But in a news release announcing the deal's completion, Duke's newly formed board put the Duke chief executive, James Rogers, in the top spot and said that Mr. Johnson had resigned "by mutual agreement."
The news of Mr. Johnson's ouster sent shock waves through the energy industry. Since Tuesday, when the deal was announced, a growing chorus of dissent has condemned the last-minute move, including Mr. Mullin, who did not join the merged companies' board.
Sara D. Davis/Associated PressWilliam D. Johnson, the head of Progress Energy, was to become chief executive of Duke Energy following a merger this week.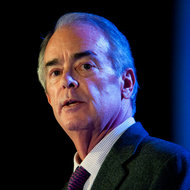 Davis Turner/Bloomberg NewsJames Rogers, the chief executive at Duke Energy, was named head of the merged business.
"As a noncontinuing director of the combined company," Mr. Mullin said in a letter to The New York Times, "I now, along with similarly situated former directors of Progress, find myself without a constituency and without an ability to mount a challenge to what I believe is one of the greatest corporate hijackings in U.S. business history."
Alfred C. Tollison Jr., another former Progress director who did not join the new Duke board, said: "I was surprised, shocked, and I felt misled. I did not expect this from Duke Energy and am really disappointed with how this turned out."
The credit ratings agency Standard Poor's has warned that it may cut the ratings of Duke, which is based in Charlotte, N.C., because of the surprise switch.
"The sudden shift in management raises concerns about effective corporate governance, successful handling of the anticipated merger integration and the ongoing effective management of pending challenges that face the combined entity," said Dimitri Nikas, a Standard Poor's analyst.
North Carolina's attorney general is also seeking documents to see if consumers were misled about the deal. The state's utilities commission said late Friday it was starting an investigation and ordered Mr. Rogers to appear at a hearing on Tuesday.
Shareholders appear to be concerned about the executive shake-up and the negative reaction to the news. On Friday, Duke's stock dropped $2.34, or 3.4 percent, on heavy volume, while broader utility stock indexes were essentially flat.
Duke's boardroom coup is hardly the first time that a power struggle has developed after a large corporate merger. Yet the unusual circumstances surrounding Mr. Johnson's removal — he was asked to resign within hours of the deal's closing — have raised eyebrows.
"The timing surrounding his resignation is highly unusual and is a sign that something dramatic happened," said Charles M. Elson, a professor specializing in corporate governance at the University of Delaware.
It is unclear exactly what led to the executive change, and company officials have declined to discuss the move. Joele Frank, a spokeswoman for Duke, refused to comment on the board's deliberations. She also did not make Mr. Rogers available. Mr. Johnson could not be reached for comment.
Watchers of the utility industry had long been surprised that Mr. Rogers, 64, would step aside and serve in the more titular post of executive chairman. A former trial lawyer, Mr. Rogers became Duke's chief executive after the 2006 merger of Duke and Cinergy, an Ohio utility that Mr. Rogers had run for more than a decade.
"I would simply say that Bill is going to be the C.E.O. and he is going to be making the calls," said Mr. Rogers during a conference call when the deal was announced in January 2011.
Mr. Johnson, 58, a former Penn State football player, practiced energy industry law at Hunton Williams for a decade before joining a Progress predecessor company in 1992. He became chief executive of Progress, which is based in Raleigh, N.C., in 2007.
The two have contrasting styles. Mr. Rogers, the former head of the industry's trade association, is seen as an outspoken and aggressive leader, having pushed Duke into risker businesses like energy trading and advanced coal technology. By contrast, Mr. Johnson has a more low-key style, and is viewed as a steadier, perhaps less ambitious manager.
"I don't think this is going to be a problem," Mr. Johnson said in January 2011, discussing the new company's leadership structure. "We are going to work well together."
The management controversy has darkened what should have been a triumphant week for Duke and Progress. The deal created the largest electric utility in the United States, with 7.1 million customers and more than 29,000 employees in six states across the Southeast and Midwest. Merging the companies took 18 months to complete, requiring approval from at least six federal and state regulatory bodies.
One of those bodies was the North Carolina Utilities Commission. Robert Gruber, the chief public advocate at the commission, said that he had deep concerns about Mr. Johnson's dismissal. His agency, along with other regulators, had signed off on the merger with the understanding that Mr. Johnson would run the new company.
"Had we known about this management structure before the merger closed, we might not have voted to approve it," Mr. Gruber said. "Mr. Rogers is very competent but that is not how the deal was advertised."
Mr. Mullin, the former Progress lead director, declined to comment beyond his letter, which he said he felt compelled to write "on behalf of Progress's former shareholders, employees, customers and communities."
A longtime investment banker at the old-line firm Dillon Read Company, Mr. Mullin, 70, has served on numerous public company boards, and is currently a director at Hess Corporation and Sonoco Products.
He said he believed there was an "explicit agreement" that Mr. Johnson would become the chief executive of Duke.
"It was a critical element in the merger deliberations of our board because we had confidence that Bill would successfully lead the combined companies," Mr. Mullin said.
"I do not believe that a single director of Progress would have voted for this transaction" had Mr. Rogers been kept in place as Duke's chief executive, he wrote.
The letter from Mr. Mullin described the odd series of events that led to Mr. Johnson's departure. When the deal closed on Monday, Mr. Johnson assumed Duke's chief executive post, abiding by the terms of the merger.
But his tenure as chief executive of the "new" Duke lasted only a few hours.
The newly constituted Duke board, which had a majority of "old" Duke directors, called an "executive session," meaning a meeting of all board members save the company's executives. A majority voted to replace Mr. Johnson with Mr. Rogers.
Mr. Johnson was shocked by the board's action, according to a friend, but complied with the board's request. He submitted his resignation just hours before Duke named Mr. Rogers chief executive.
"This can only be described as an incredible act of bad faith," Mr. Mullin wrote.
On Tuesday, Mr. Rogers is scheduled to meet with Progress's employees at the Marriott hotel in downtown Raleigh.
A Progress official, who spoke on the condition of anonymity because he feared for his job, said that he wanted an explanation for the board's actions.
"Rogers is not getting off on the right foot and won't be getting off easy next week," said the Progress official.
For his part, Mr. Johnson has received a lucrative exit package, according to a securities filing. He will receive payments of about $44 million, which includes a $7.4 million severance. He receives a lump-sum payment of $1.5 million so long as he does not disparage Duke and cooperates with the company.
Article source: http://dealbook.nytimes.com/2012/07/06/uproar-over-c-e-o-s-ouster-at-merged-energy-giant/?partner=rss&emc=rss