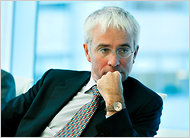 Jf/Bloomberg NewsPeter Sands, chief executive of Standard Chartered.

6:07 p.m. | Updated
LONDON — Long a golden child among global banks, the British bank Standard Chartered now wears a somewhat tarnished crown.
The bank's investors were rattled by accusations that it had schemed with the Iranian government to hide $250 billion in money transfers over nearly a decade. On Tuesday, shares of Standard Chartered fell as much as 25 percent — their sharpest one-day decline in more than two decades — before recovering to end London trading down 16 percent.
The accusations upset a widely held view of Standard Chartered as a banking success story, thanks to its large operations in emerging markets in Asia and elsewhere.
Unlike other European financial institutions hit by the Continent's debt crisis, Standard Chartered, a London-based bank with roots that date to 1853, continued to report rising profits. Last week, the bank said its net profit for the first half of the year rose 11.3 percent, to $2.86 billion. Around 90 percent of the profit came from developing economies.
Central to Standard Chartered's business is its ability to facilitate trade between emerging economies and developed countries by clearing transactions in New York City. That ability came under threat on Monday when New York State's top banking regulator, the Department of Financial Services, said it had grounds to revoke the bank's license in the state. The bank must appear before the state's banking superintendent on Aug. 15 to explain why that should not happen.
Standard Chartered's New York office, which has been licensed since 1976, primarily operates a dollar-clearing business, moving roughly $190 billion a day. It also does corporate lending, trade finance, foreign exchange trading and wire transfer services, among other business.
The regulator has accused the bank of masking more than 60,000 transactions for Iranian banks and corporations, pocketing millions of dollars in fees.
Senior management at the bank used the New York branch "as a front for prohibited dealings with Iran — dealings that indisputably helped sustain a global threat to peace and stability," the regulator said.
The accusations cast a shadow over Peter Sands, the bank's chief executive, who was the company's financial director from 2002 to 2006. Mr. Sands had been mentioned as a potential future head of the rival British bank Barclays.
Standard Chartered has gone on the defensive, rejecting the New York regulator's portrayal of the facts. The bank said that 99.9 percent of the transactions related to Iran complied with regulations.
The bank's "review of its Iranian payments also did not identify a single payment on behalf of any party that was designated at the time by the U.S. government as a terrorist entity or organization," it said in a statement.
Penalties connected to the money laundering case may cost Standard Chartered around $1.5 billion, according to Cormac Leech, a banking analyst with Liberum Capital in London.
Mr. Leech said the firm also could lose an additional $1 billion from a cutback in business operations connected to Iran, as well as $3 billion in market value if some of the bank's senior executives, including Mr. Sands, are forced to resign.
However, analysts said on Tuesday that loss of the bank's ability to operate in the United States was unlikely because authorities had focused their attention on monetary fines.
Still, the damage to Standard Chartered's reputation and the continuing investigations into the bank's activities with Libya, Myanmar and Sudan may weigh on earnings in the short term, according to Chintan Joshi, a banking analyst with Nomura in London.
The money laundering accusations come at a broadly difficult time for British banks.
Barclays agreed to a $450 million settlement with American and British officials in June after some of its traders and senior executives were found to have altered the London interbank offered rate, or Libor, for financial gain.
HSBC apologized last month for not cracking down soon enough on money laundering activities in the United States. David Bagley, the head of compliance for HSBC since 2002, resigned last month because of the scandal.
Analysts said Standard Chartered's emphasis on emerging markets would help to limit the long-term effects of the allegations.
Last week, the bank said it planned to open more branches in countries with fast-growing economies, like China and India, as it exploits a decline in its competitors' trading activity. Standard Chartered also reported double-digit growth in its wholesale and consumer banking divisions during the first six months of the year.
Before the money laundering accusations were made public, shares of the bank outperformed other financial institutions. Over the last 12 months, Standard Chartered's stock rose 10.4 percent, compared with a 12.8 percent drop in the Stoxx Europe 600 Banks index.
Article source: http://dealbook.nytimes.com/2012/08/07/shares-of-standard-chartered-slide-amid-money-laundering-inquiry/?partner=rss&emc=rss