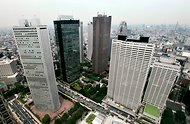 Kimimasa Mayama/European Pressphoto Agency Tokyo's maze of buildings.
In the wake of the problems Apple's new iPhone apps are causing Japanese, smartphone users are flocking to another map app, from Navitime. The Tokyo start-up scoffs at Google Maps when it comes to mapping journeys through the streets of Tokyo that confuse even native Tokyoites.
Google had done a better job than Apple in mapping Japan, incorporating various data sources and putting its software engineers to work to tailor its map app to meet local needs and tastes. But with Google's maps no longer easily accessible from the newest iPhones, the past few days have given Japanese map companies a chance to show their stuff.
Navitime, a pioneer in online map navigation here, claims to provide a "total navigation" service on every available transportation medium, and the service largely lives up to its name.
On the Navitime app, a search for train directions between two locations in Tokyo not only brings up timetables and routes on foot; the app also suggests which train cars to board to avoid crowds and get to the correct exits quickly.
A crowdsourced function, meanwhile, gives a real-time analysis of congestion on Tokyo's notoriously crowded subway lines, from Level 1 (seats available) to Level 5 (packed in, can't move) to the dreaded Level 6 (impossible to board the train at all).
And for those who give up on Tokyo's trains, Navitime provides maps tailored for cyclists, who can select routes that have fewer uphill routes or go mainly along big roads, for cyclists who like to go fast. Or users can opt for routes that stick to narrower backstreets for a quieter ride.
"It's the attention to on-the-ground detail that counts," said Keisuke Onishi, Navitime's chief executive, who founded the mapping service in 1997 after studying mapping algorithms in college in the 1980s.
Mr. Onishi now leads a 400-person company that sends out teams to physically check and update routes and estimated times.
"You just can't work off existing data. You have to go out and get live information," Mr. Onishi said, "or people are going to get lost."
Article source: http://bits.blogs.nytimes.com/2012/09/25/japanese-look-for-alternatives-to-apples-maps/?partner=rss&emc=rss