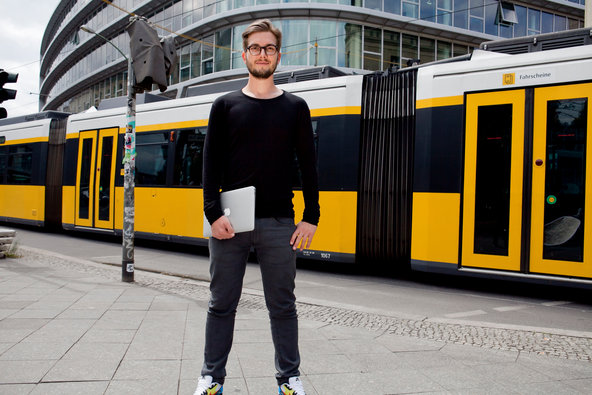 Mustafah Abdulaziz for The New York Times Alex Ljung, the co-founder of the audio-sharing Web service SoundCloud in Berlin, splits his time between Germany and the United States.
LONDON — When Alex Ljung, a multilingual entrepreneur, co-founded the audio-sharing Web service SoundCloud in Stockholm in 2007, he knew the company needed an international expansion strategy right away. The company didn't have a big domestic market or access to a large pool of world-class developers.
A few months after the company was started, Mr. Ljung and his business partner, Eric Wahlforss, moved to Berlin to be closer to many of the region's largest markets and tap into the city's booming start-up community. Earlier this year, he started breaking into the American market, securing $50 million of financing from Kleiner Perkins Caufield Byers, the Silicon Valley venture capital giant, and other firms.
Mr. Ljung, who was born in London and grew up in Sweden, now splits his time between Germany and the United States.
"It was obvious that our business had to be global from the start," he said. "We're more like citizens of the Internet than citizens of a country."
With Europe's market spread across more than 50 countries and the Continent's economy struggling under the weight of its debt crisis, local start-ups are forced to become global from the outset. As international markets, particularly fast-growing emerging economies, become ever more important to start-ups' growth, European entrepreneurs are hoping their experience in foreign markets will help them compete with more-established and better-financed American rivals.
"An international mind-set is baked into the DNA of Europeans," said Saul Klein, a partner of the Geneva-based venture capital firm Index Ventures, which has backed some well-known European start-ups, including Skype and the Internet radio station Last.fm. "Great entrepreneurs can come from anywhere. Even start-ups from small countries can compete on the global stage."
While Silicon Valley continues to dominate the venture capital industry, other cities like London, Paris and Berlin are attracting large numbers of investors and start-ups in the technology industry and other sectors like financial services and fashion. The east end of London, which has become home to the city's young entrepreneurs, recorded a 40 percent rise in start-ups last year, according to British government statistics.
The young companies in big European capitals are able to draw upon a global, multilingual work force accustomed to moving between different languages and cultures. Well-educated graduates are also more willing to work for fledging businesses, since large companies aren't aggressively hiring in the current economic malaise. Since 2008, Criteo, a French company that helps businesses market to consumers online, has grown from 20 employees to a 500-person staff comprising more than 15 nationalities in its 15 offices around the world.
"We've become a global company," said Jean-Baptiste Rudelle, a co-founder of Criteo, who has moved to the West Coast to run the company's operations in the United States. "We are still a European company, but with an international footprint."
The new generation of European start-ups still faces a tough slog in the region's current economic environment. The volatile capital markets make it hard for new companies to go public, and many large businesses are reluctant to spend their large cash reserves to acquire start-ups.
Venture capitalists also have reduced their investments. Start-ups based in Europe raised a combined 762 million euros, or $958 million, through fund-raising in the first quarter of the year, a 41 percent drop from the same period last year, according to data from Dow Jones VentureSource, which tracks the venture capital industry. Fund-raising for start-ups in the United States fell 18 percent over the same period.
Despite the economic weakness, Kristjan Hiiemaa, the founder of the e-commerce software company Erply, continues to push ahead. Started in Talinn, Estonia, in 2009, the company now has offices in London and New York, and expects to more than double its client base to 100,000 customers by the end of the year. Erply counts a number of Fortune 500 companies, including eBay's PayPal and the cosmetics company Elizabeth Arden, as clients.
"In New York or Chicago, no one cares that we're from Estonia," said Mr. Hiiemaa, who takes chocolates from his home country to help break the ice. "We have an international team and our clients are all around the world."
The ability to win new business in far-flung places is likely to become more important as start-ups focus on growth in emerging markets. Western countries still attract the majority of entrepreneurs' attention. But analysts say the rise of a free-spending middle class in countries like China and Brazil is forcing companies to develop strategies before local competitors, which often mimic the Western start-ups' business ideas, beat them to market.
To compete in these developing economies, start-ups must be willing to quickly alter their businesses in line with the local cultures and languages. After successfully expanding into new markets and navigating the complexities of winning over foreign customers, European start-ups like SoundCloud and Erply think they're well placed to take advantage.
"The appeal of products has become international from the get-go," said Danny Rimer, a Silicon Valley-based partner at Index Ventures, which has invested in both the companies. "Europe's advantage is that companies already know how to adapt to new countries."
Article source: http://dealbook.nytimes.com/2012/06/11/companies-born-in-europe-but-based-on-the-planet/?partner=rss&emc=rss