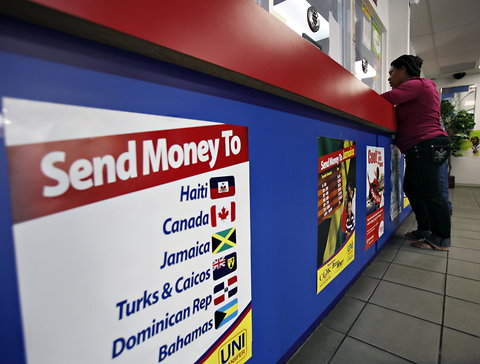 Associated PressA money transfer counter in Miami.
People transferring money overseas must be informed of the exchange rate they are paying as well as any fees, under a new rule from the Consumer Financial Protection Bureau.
Under the rule, providers of international money transfers, also known as remittances, must also investigate any disputes and remedy errors. The protections are aimed at making sure customers know exactly how much money the recipient will get at the other end. The rule takes effect next January.
Remittances are generally sent on a cash basis; the sender submits cash at a money transfer location, and the recipient picks up the cash in the foreign country, sometimes within minutes. Fees for the transfers can be substantial, the bureau had previously found — as much as 13 percent on amounts up to $200.
Richard Cordray, the consumer watchdog agency's director, said in a statement that the new rule would allow customers to know their costs ahead of time and compare prices, and would hold providers accountable for any errors that occur.
Consumers transfer tens of billions of dollars from the United States to foreign countries each year, but the transactions have often involved undisclosed fees, according to the bureau. The Dodd-Frank financial reform act expanded the scope of electronic funds transfer laws to cover remittances and required the bureau to impose new protections.
Under the bureau's rule, companies offering remittances must disclose the fees, the exchange rate and the amount to be received by the recipient. The disclosures must generally be provided when the consumer first requests a transfer, and again when payment is made. Consumers will have at least 30 minutes after the payment is made to cancel a transaction, and will receive a refund if they cancel.
Remittances are receiving more scrutiny from the new consumer watchdog agency. For instance, the agency is studying whether remittances can be used to help generate credit scores, rather than the usual banks or credit cards.
Have you made use of remittances? What do you think of the new disclosure rules?
Article source: http://feeds.nytimes.com/click.phdo?i=4d4ee335bcf1af4882ebb7bd103bbceb