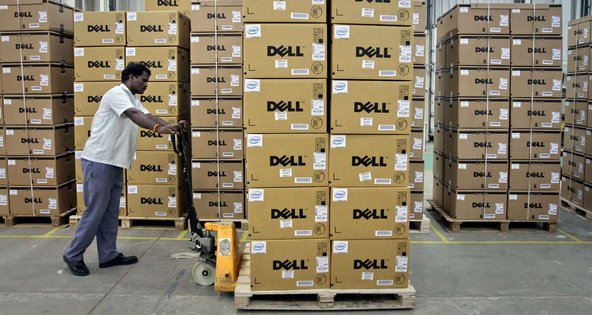 Babu/ReutersA Dell computer factory in Sriperumbudur Taluk, India.
Dell announced on Monday that it would buy Quest Software for $2.4 billion, as it looked to expand beyond its main business of selling personal computers.
Under the terms of the deal, Dell will pay $28 a share for Quest, emerging as the winner in a bidding war for the software company.
Related Links
"The addition of Quest will enable Dell to deliver more competitive server, storage, networking and end user computing solutions and services to customers," John Swainson, president of Dell's software group, said in a statement. "Quest's suite of industry-leading software products, highly talented team members and unique intellectual property will position us well in the largest and fastest-growing areas of the software industry."
Rob D. Owens, an analyst with Pacific Crest Securities, said: "At $28, it's a pretty cheap valuation for Quest. There are growth areas in this market."
With annual sales of $857 million, Quest Software sells a broad range of enterprise applications. While many of its legacy businesses, including software applications that support Oracle databases and Windows operating systems, are considered slower-growth businesses, Mr. Owens says he sees increasing demand for its back-up and recovery applications, virtualization services and its single sign-on solution, which allows users to securely access multiple password-protected accounts with a single log-in.
Deal-makers have been fighting over Quest in recent months.
In March, Quest agreed to a deal with Insight Venture Partners, which offered $23 a share for the company. Then the software maker announced in early June that it had received a bid of $25.50 a share from a strategic buyer, which was said to be Dell. While Insight Venture teamed up with Vector Capital on an increased bid, Dell trumped the offer on Monday.
Initially, Insight's campaign had the support of Vincent C. Smith, Quest's founder and chief executive, who had pledged to commit the bulk of his holdings to an Insight-led transaction. On Monday, Mr. Smith voiced his support for Dell's offer.
"Clearly, Dell's distribution, reach and brand are well recognized in the industry," Mr. Smith said in a statement. "With this transaction, Quest's products and employees become the foundation for Dell's critical software business."
Dell, best known for selling affordable personal computers and laptops, has pushed hard to diversify its business, particularly in the enterprise market. In recent years, it has made a string of acquisitions in the space, including deals for Compellent Technologies, a data storage company, two years ago, and Force10, a networking business.
As in the case of Quest, Dell has not shied away from heated bidding wars. Two years ago, it battled with Hewlett-Packard over 3Par, a data storage company. After several rounds, H.P. eventually won with a $2.35 billion bid.
Shares of Quest closed on Friday at $27.81, just below Dell's offer price.
Article source: http://dealbook.nytimes.com/2012/07/02/dell-to-buy-quest-software-for-2-4-billion/?partner=rss&emc=rss