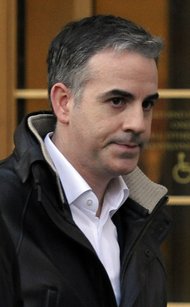 Timothy A. Clary/Agence France-Presse — Getty ImagesAnthony Chiasson, a co-founder of Level Global, leaving federal court on Wednesday. His hedge fund is accused of making $53 million from illegal trades.
9:05 p.m. | Updated
Sandeep Goyal was a small-time stock analyst with a big connection.
Before pursuing a career on Wall Street, Mr. Goyal spent three years at Dell, and after he left in 2006, he kept close ties to his colleagues at the computer maker. In 2008, while working at a mutual fund company, Mr. Goyal received illegal tips from a Dell executive about the company's financial results, federal authorities say.
Mr. Goyal, they say, used the secret information as currency, passing it around to his expanding network of fellow stock pickers. The leaks, emanating from Dell's headquarters in Texas, ricocheted around the country, reaching a fund manager at a small trust company in California and three powerful hedge funds in New York and Connecticut.
On Wednesday, federal prosecutors announced criminal charges against Mr. Goyal and six others, depicting a "circle of friends" that together earned about $62 million in illegal gains in Dell stock.
One hedge fund, Level Global Investors, made $53 million of those profits, the government said. Level Global is the most prominent hedge fund touched by the government's insider trading prosecutions since the Galleon Group closed in 2009 after the arrest of its co-founder, Raj Rajaratnam.
A co-founder of Level Global, Anthony Chiasson, 38, was among those charged on Wednesday. Also charged were Todd Newman, 47, a former trader at Diamondback; Daniel Kuo, 36, a former portfolio manager at Whittier Trust Company in Pasadena, Calif., and Jon Horvath, 42, an analyst at Sigma Capital, a unit of SAC Capital Advisors, the hedge fund run by the billionaire investor Steven A. Cohen.
The Dell executive was not named in the government's complaint. A company spokesman said that if the accusations were true, the action was a clear violation of Dell's policies.
Lawyers for Mr. Chiasson and Mr. Horvath issued separate statements denying the government's charges against their clients. The other defendants' lawyers did not immediately respond to requests for comment.
The arrest of Mr. Horvath, who is accused of making $1 million in illegal profits, adds to the list of former SAC Capital employees ensnared by the government's insider trading crackdown. Last year, two former SAC portfolio managers, Noah Freeman and Donald Longueuil, pleaded guilty to trading on illegal stock tips while at the company.
Another pair of former SAC Capital traders, David Ganek and Mr. Chiasson, started Level Global, which closed last year. Mr. Ganek has not been accused of any wrongdoing.
Diamondback was also started by SAC Capital alumni, including Mr. Cohen's brother-in-law, Richard Shimel. Mr. Shimel has not been accused of any wrongdoing, and Diamondback continues to operate. On Wednesday, the company sent a letter to its investors that said it had assisted in the investigation and that the government's charges were "an important step towards putting this matter behind us."
An SAC spokesman said the firm was continuing to cooperate with the investigation.
Though hedge funds are again at the center of insider trading charges, the case is the first time that charges from the government's insider trading inquiry has reached into the sleepier mutual fund industry. Mr. Goyal worked at Neuberger Berman, a New York money manager with a large mutual fund business.
The 39-year-old Mr. Goyal, who has pleaded guilty and is cooperating with the government, received about $175,000 in illicit payments from Diamondback for "consulting" work. He did not make any illegal trades at Neuberger Berman, which has not been accused of any wrongdoing.
"This unethical behavior is contrary to the core values of our firm and the culture of compliance in which we operate," a Neuberger spokesman said.
Jesse Tortora, 36, a former trader at Diamondback, and Spyridon Andondakis, 40, a former trader at Level Global, also pleaded guilty and have been cooperating with the government.
The case is the latest round of prosecutions in a multiyear government campaign to root out insider trading. Nicknamed "Operation Perfect Hedge," the investigation has led to more than 60 guilty pleas or convictions.
"If you are engaged in insider trading, what distinguishes you from the dozens who have been charged is not that you haven't been caught; it's that you haven't been caught yet," said Janice K. Fedarcyk, the head of the Federal Bureau of Investigation's New York office.
The Securities and Exchange Commission filed a parallel civil action against the seven defendants on Wednesday.
Wednesday's charges again highlighted the web of connections on Wall Street. Mr. Goyal, Mr. Tortora and Mr. Andondakis, for instance, all worked together earlier in their careers at Prudential Equity Group, and they socialized together in Manhattan and the Hamptons.
"It was a club where everyone scratched everyone else's back," Preet S. Bharara, the United States attorney in Manhattan who brought the charges, said at a news conference.
More than a year ago, the government raided a series of hedge funds. Federal agent stormed the offices of Level Global, Diamondback Capital Management and two others in November 2010 to retrieve documents and other materials. Months after the November raid, Level Global closed.
Mr. Chiasson and Mr. Ganek started Level Global in 2003 shortly after leaving SAC Capital. They used "Level" in its name because, Mr. Chiasson once said, "Level is a palindrome which connotes balance and adaptability — two key investing traits."
In a few years, the fund's assets swelled to nearly $4 billion, attracting major clients like the New York state pension fund.
Inside the firm, the two men exhibited different styles, according to former employees. Mr. Chiasson had a calm and even demeanor, peppering his analysts with questions while rarely raising his voice.
Mr. Ganek, by contrast, often barked out directions over the Bloomberg terminals and was a more excitable trader.
Their different styles were also apparent in their personal lives.
While Mr. Ganek was prominent in the Manhattan social scene, serving on boards and buying millions of dollars worth of modern art, Mr. Chiasson, who grew up near Portland, Me., eschewed the limelight.
Since closing the hedge fund, Mr. Ganek has kept a low profile on Wall Street. He is said to be planning a new investment venture, financed mostly by his own wealth, according to a person with knowledge of the matter spoke only anonymously because the discussions were private.
Level Global made by far the largest profits in the scheme, according to the government's accusations. After learning from Mr. Andondakis that a source inside Dell had leaked the company's bleak financial outlook, Mr. Chiasson oversaw a large negative bet on the computer company, according to the government.
The fund accumulated a short position in Dell of 8.6 million shares in the weeks leading up to the company's earnings announcement. It also bought at least 10,900 put option contracts, a derivatives trade that would magnify the fund's profits if the price of Dell's stock dropped.
Dell shares declined 14 percent on its earnings announcement. It continued to sink until Level Global closed out its position on Sept. 16, 2008 — the day after the collapse of Lehman Brothers. The fund's total illegal profits were $53 million, the government said.
"You might call that the big short," said Mr. Bharara, a reference to "The Big Short," Michael Lewis's book about the financial crisis.
"Or more precisely: the big illegal short," Mr. Bharara added.
Ben Protess contributed reporting.

U.S. v. Newman, Chiasson, Horvath and Kuo
Article source: http://feeds.nytimes.com/click.phdo?i=6b70a10b76e07b5530289350e429bc16