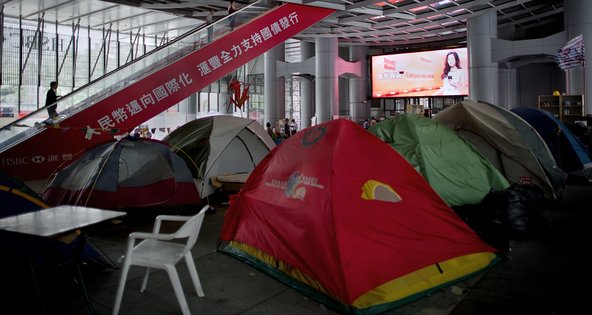 Philippe Lopez/Agence France-Presse — Getty ImagesProtesters' tents outside HSBC's headquarters in Hong Kong.
HONG KONG — As global movements against capitalism go, the members of Occupy Hong Kong have demonstrated surprising staying power.
If ever there was a city where pure or considerably unfettered capitalism has approached its logical end, surely Hong Kong is it.
The city is home to more billionaires than popularly elected legislators. It has more Cartier, Gucci, Hermès and Louis Vuitton boutiques than Hong Kong Island has hospitals or post offices. Buddhism and Taoism are the main religions here, but bank branches outnumber temples by more than two to one.
"In Hong Kong, if you don't follow the rules set by big corporations and big capitalism, you just cannot survive," said Tiv Wong, a young publishing industry freelancer who has been active in the Occupy movement.
Even against this backdrop, Occupy Hong Kong has stayed on for nine months. But protesters in Hong Kong, who have staked their claims to an open-air plaza beneath the Asian headquarters of HSBC in Central, Hong Kong's financial district, may be facing their last days.
On Monday, a legal bid by HSBC to obtain a court order to evict the protesters came before a judge for the first time.
Many in the city are surprised that the bank waited so long to take action. But the first hearing ended in a draw, as the court allowed time for the three named defendants, who have no lawyers and are representing themselves, to submit reasons they should be allowed to stay.
Two of the defendants, Ho Yiu-shing and Wong Chung-hang, are promoting the Occupy movement's goals. The third is Mui Kai-ming, who is protesting against HSBC over the execution of his sister's will.
A follow-up hearing was scheduled for Aug. 13, effectively giving the occupiers an extra month at their camp. Still, the result of the case could be a clash that might get ugly.
"If there's an order for us to move out at last, we will try our best to stay," Ms. Wong said. "Of course, some of us don't believe in law and may not follow the court order."
It may seem surprising that the protesters in Hong Kong have managed to lay their claim to their site even as their counterparts at Zuccotti Park in Manhattan and at St. Paul's Cathedral and Finsbury Park in London, have long since been evicted by the authorities or decamped of their own accord.
But a look at the wealth gap in Hong Kong indicates a bit how the idea of the Occupy movement has captured a degree of support. Hong Kong's boom throughout much of the previous century was driven by waves of immigration from mainland China, and behind nearly every tycoon's fortune in the former British colony is a version of a rags-to-riches tale that had woven itself into the city's ethos by the time it was handed back to Chinese sovereignty in 1997.
Disenchantment with this dream has grown in recent years as the city's wealth gap has widened, property prices have soared and average citizens have become increasingly priced out, in many cases by well-heeled investors and visitors from the Chinese mainland. The average home price is around 13 times the median annual household income.
Hong Kong's Gini coefficient, a measure of income inequality in which zero represents perfect equality and 1 means one person holds all the income, rose to 0.537 last year, according to government figures released last month. That is the highest reading for any developed economy in Asia.
At the same time, a growing backlash against perceived collusion between big business and an undemocratically elected government has brought demonstrators into the streets. Hundreds of thousands marched in an annual pro-democracy rally on July 1 and, in smaller numbers, the Occupy protesters have gathered supporters.
"It was once thought that people like Li Ka-shing were cultural heroes and everybody could become rich if you worked hard enough and a few breaks came your way," said Gordon Mathews, a professor of anthropology at the Chinese University of Hong Kong, referring to the Hong Kong tycoon who is considered the wealthiest man in Asia. "Today, increasingly, people don't think that, and they have become much more cynical about the gap between rich and poor. This is having a fairly remarkable effect on Hong Kong."
The Occupy encampment is a case in point. Though it has dwindled from a peak of 100 to 200 protesters last autumn, 10 to 20 people still gather at the site for twice-a-week meetings, and a handful of stalwarts remain in residence around the clock.
On Saturday afternoon on the plaza beneath the HSBC building, only three middle-age occupiers were visible. One was napping on a sofa. A dozen or so tents were mostly empty except for simple bedding, household items and protest signs.
Alan Chiu, a 48-year-old technology specialist who is unemployed, has been living at the camp full time for the last two months. He says things have gone smoothly, except for when one of the members of the proudly leaderless group tried to proclaim himself the one in charge. That member has since moved nearby, where he camps alone in front of a row of automated teller machines.
HSBC's patience with the occupiers, however, has run its course. The bank's Hong Kong unit filed deeds and leases dating to 1857 as part of its lawsuit, which names three individual protesters and "defendants whose names are not known," who are identified as "the occupiers."
According to the filings, the plaza beneath the skyscraper was deeded during construction in 1983 as a "dedicated area for the purposes of public pedestrian passage."
But the title documents also require the bank to keep the property "in a clean and tidy construction and free from any obstruction," according to an affidavit from HSBC's chief operating officer in Hong Kong, Mark Ivan Boyne.
Mr. Boyne says the camp has resulted in stained granite tiles, required the bank to cancel a number of activities and charity events planned for the space and created safety concerns over debris and cooking over open and gas fires.
"As the occupation continues, the hygiene situation is deteriorating and will likely continue to deteriorate," his affidavit said.
Camp or no camp, some see the future of the movement as indicative of problems in contemporary Hong Kong, as a younger generation of protesters becomes increasingly vocal in its complaints against a deeply unpopular government.
First- and second-generation immigrants from the communist mainland may be wary because many of them "did have a better life during the heyday of capitalism under British rule," said Chris Chan King-chi, an assistant professor in the department of applied social sciences at the City University of Hong Kong, who supports the Occupy movement.
"Especially because full democracy has not been achieved in Hong Kong," he continued, "the general public will be of the view that the origin of our current problems is the government, rather than capitalism."
Article source: http://dealbook.nytimes.com/2012/07/16/occupy-hong-kongs-fate-now-in-a-courts-hands/?partner=rss&emc=rss