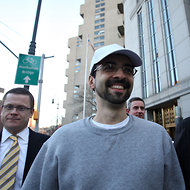 Hiroko Masuike/The New York TimesSergey Aleynikov leaving court after winning his appeal in February.
A former Goldman Sachs programmer charged a second time with stealing valuable computer code from the investment bank is fighting back, demanding that his former employer cover his mounting legal fees.
On Tuesday, the programmer, Sergey Aleynikov, sued Goldman in Federal District Court in New Jersey. He wants the financial firm to pay for the nearly $2.4 million in costs he has racked up defending himself in both an overturned federal case and a pending state proceeding by the Manhattan district attorney.
Those costs are likely to grow as the case by the district attorney, Cyrus R. Vance Jr., progresses. A grand jury has handed up an indictment, and Mr. Aleynikov is expected to be arraigned on Thursday, according to a person with direct knowledge of the matter, who spoke on condition of anonymity because the grand jury's actions are private until the arraignment.
Mr. Aleynikov's lawyer, Kevin H. Marino, has requested a $500,000 retainer fee as he and his partners at Marino, Tortorella Boyle in Chatham, N.J., prepare Mr. Aleynikov's defense. In the complaint filed on Tuesday, they wrote that their client had exhausted his financial resources before the federal district trial. They argued that Goldman was obligated to pay his fees because he was an officer of the firm during the time in question.
"Aleynikov incurred significant legal fees and expenses in connection with his successful defense of the federal charges," the complaint read. "Because he succeeded on each federal charge brought against him, Aleynikov is entitled to indemnification for the reasonable fees and expenses incurred in his defense."
A Goldman spokesman, Michael DuVally, declined to comment.
It is the latest twist in Mr. Aleynikov's long legal journey.
Three years ago, he was arrested after Goldman reported him to the United States attorney in Manhattan. Then a vice president at the firm, he was charged with stealing source code for high-frequency trading software as he was leaving to join a start-up.
A jury found him guilty in 2010, and Mr. Aleynikov was sentenced to eight years in federal prison. An appeals court reversed that conviction this year, finding that the case was built on a misuse of federal corporate espionage laws. Mr. Aleynikov was released from prison shortly thereafter.
But last month, Mr. Vance filed his own charges, accusing Mr. Aleynikov of exploiting his access to Goldman's "secret sauce." The case is widely seen as part of a campaign by Mr. Vance and Preet Bharara, the United States attorney in Manhattan, to pursue white-collar crime.
That legal battle has left Mr. Aleynikov with little money, according to Tuesday's complaint. He is relying on friends to provide him with housing and cannot afford to pay his lawyers.
As part of their case, Mr. Aleynikov's lawyers point to a section of Goldman's bylaws that, they say, requires the firm to indemnify employees charged in criminal or civil proceedings in connection with their status as an officer or director of the bank.
The firm has paid a large portion of the legal fees for a former director, Rajat K. Gupta, who was convicted of leaking boardroom talks to the hedge fund magnate Raj Rajaratnam. It has done the same for Fabrice Tourre, the subject of a securities fraud lawsuit by the Securities and Exchange Commission. While Goldman settled a related civil case for $550 million, Mr. Tourre, who is on leave, is awaiting trial.
Late last month, Mr. Aleynikov requested that Goldman advance him money to cover some of the fees for his defense in the state court case. He offered to refund the money if he were ultimately found ineligible for such treatment, according to court papers.

Aleynikov Legal Fees Complaint

Sergey Aleynikov Fees Memorandum of Law
Article source: http://dealbook.nytimes.com/2012/09/25/former-programmer-demands-that-goldman-cover-his-legal-fees/?partner=rss&emc=rss