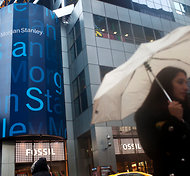 Victor J. Blue/Bloomberg NewsMorgan Stanley's headquarters in Manhattan. The firm's quarterly results were hurt by a legal settlement with the bond insurer MBIA.
Morgan Stanley, hit hard by a big legal charge and a difficult economy, swung into the red in the fourth quarter, reporting a loss of $275 million.
The loss of 15 cents a share compares with a profit of 41 cents a share in the quarter a year ago, but is better than a loss of 57 cents that was expected by analysts polled by Thomson Reuters. Morgan Stanley last posted a loss in the second quarter of 2011.
Despite the loss, the bank's chief executive, James P. Gorman, struck a positive note in the earnings release, saying that Morgan Stanley ended the year "in better shape" than where it started and had dealt with a number of outstanding legacy and strategic issues that had been dogging it.
The firm took a one-time $1.7 billion charge related to a legal settlement with the bond insurer MBIA, which weighed on the results for the quarter. The charge accounted for a loss of 59 cents a share.
Fourth-quarter revenue in institutional securities fell 42 percent to $2.07 billion. One number that stood out in the institutional securities division was its compensation ratio. It came in at $1.6 billion, 75 percent of net revenue. The number is high because it includes the MBIA settlement. If that is removed the number drops to a more normalized 41 percent.
Asset management reported a sharp drop in revenue, falling to $424 million for the period, down 50 percent from the year-ago period. Morgan Stanley attributed the drop to lower gains on investments it has made in its merchant banking and real estate investing businesses.
The one main bright spot in the quarter was the firm's global wealth management division. It posted net revenue of $3.25 billion this quarter, down just 3 percent from the year-ago period. The division had $1.6 trillion assets under management in the quarter, unchanged from the previous quarter.
All told, the firm logged net revenue of $5.71 billion in the quarter, down 26 percent from the year-ago period.
Morgan Stanley also announced that it had set aside $16.4 billion in 2011 to pay its employees, 51.2 percent of its net revenue. In 2010, Morgan Stanley paid $16.05 billion to employees, which also came to roughly 51 percent of its revenue. This year, with money tight, Morgan Stanley, as previously reported, decided to cap all cash bonuses at $125,000 for the year.
Morgan Stanley, like its rivals, is trying to navigate its way through the current difficult economic environment, which is exacerbated by a tighter regulatory regime that has forced firms to hold more capital against certain operations and out of other businesses altogether.
On Wednesday, Goldman Sachs said its profit in the fourth quarter was $978 million, ahead of analyst expectations but still muted compared with its historical earnings power.
Yet, Morgan Stanley was hit harder by the credit crisis than Goldman Sachs and Mr. Gorman has spent the last two years rebuilding the firm. He has reduced the risk in some divisions and focused a lot of his energy building Morgan Stanley's wealth management division, which is a lower-risk operation that has the potential to deliver steady returns.
Morgan Stanley also declared a quarterly dividend of 5 cents a common share on Wednesday.
Article source: http://feeds.nytimes.com/click.phdo?i=229f448c5d22335747ed1ab706c51887