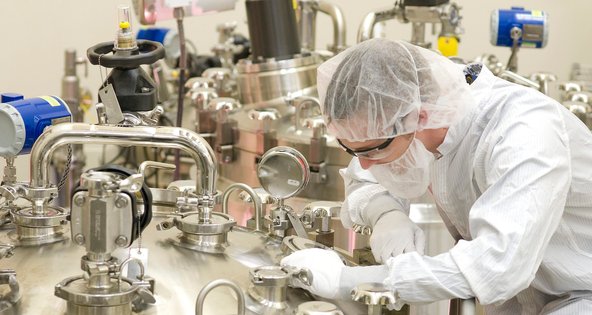 Marshall Clarke/Human Genome Sciences, via Reuters A technician at work in a Human Genome Sciences laboratory in Rockville, Md.
10:00 a.m. | Updated with news announcement
GlaxoSmithKline of Britain said on Monday that it would buy the biopharmaceutical company Human Genome Sciences on friendly terms for about $3 billion, ending a long hostile takeover campaign.
The friendly deal between the two ends Human Genome's efforts to find an alternative buyer for the company. It also ends months of jockeying between the two drug companies, who are partners in developing the lupus drug Benlysta.
Biopharmaceutical companies like Human Genome have been in demand by acquirers in recent years. Bigger drug makers have been seeking to restock their product pipelines with new offerings as older treatments lose patent protection. Two weeks ago, Bristol-Myers Squibb agreed to a $7 billion deal to buy Amylin Pharmaceuticals, which has been developing a new drug to treat diabetes.
Under the terms of the deal, GlaxoSmithKline is paying $14.25 a share in cash, or nearly double where Human Genome Science's shares were trading before news of the Glaxo's initial offer was disclosed.
In April, GlaxoSmithKline first proposed to pay $13 a share to acquire Human Genome, 81 percent above its closing share price the day before the bid was announced. The British drug maker was seeking to take advantage of a steep drop in Human Genome's share price in the last 12 months, a decline driven in part by high marketing costs for Benlysta.
But Human Genome swiftly rejected the bid as insufficient and instead put itself up for sale, inviting GlaxoSmithKline to participate in the auction process. Human Genome also put up defenses like a shareholder rights plan aimed at thwarting a hostile takeover bid.
Still, GlaxoSmithKline decided to take its bid directly to Human Genome's shareholders and had extended that offer several times.
Last week, Human Genome and GlaxoSmithKline began talks about a potential friendly transaction, a person briefed on the talks said. On Monday, Glaxo said the boards of both companies had approved the deal.
Some analysts and investors have said that GlaxoSmithKline was the natural buyer of Human Genome. The two split profits from sales of Benlysta, and are working together on two other treatments, for heart disease and for diabetes.
The lupus drug received approval from the Food and Drug Administration, making it the first new treatment for the disease in about 50 years. But sales have been slow and have fallen far short of expectations.
Human Genome's heart disease drug, darapladib, has also been seen as a potentially promising new product, though it is still in clinical trials.
Any other drug maker would have needed to either buy out GlaxoSmithKline's 50 percent stake in Benlysta and the other treatments, or content itself with sharing proceeds from sales of the drugs.
Investors had long expected GlaxoSmithKline to raise its offer price above $13 a share. Human Genome's shares had traded above that level since the proposal was first announced, closing on Friday at $13.58.
GlaxoSmithKline was advised by Lazard, Morgan Stanley and the law firms Cleary Gottlieb Steen Hamilton and Wachtell, Lipton, Rosen Katz. Human Genome was advised by Goldman Sachs, Credit Suisse and the law firms Skadden, Arps, Slate, Meagher Flom and DLA Piper.
Article source: http://dealbook.nytimes.com/2012/07/15/glaxosmithkline-in-talks-to-buy-human-genome/?partner=rss&emc=rss