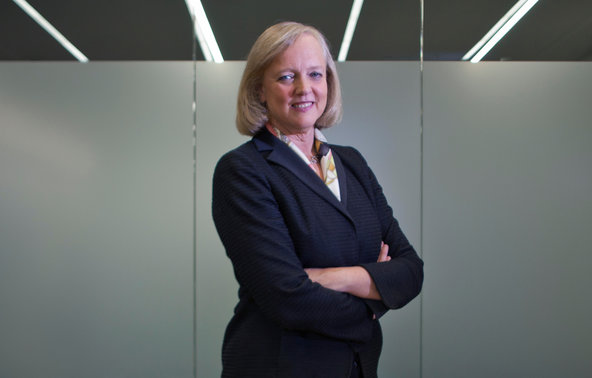 Peter DaSilva for The New York Times Hewlett-Packard needs four more years "to have confidence in itself," says Meg Whitman, the company's chief executive.
7:45 p.m. | Updated

SAN FRANCISCO — Meg Whitman, Hewlett-Packard's chief executive, beat up her company on Wednesday.
Ms. Whitman told a meeting of Wall Street analysts that they should expect sharply lower revenue and profits. She also told them not to expect the company to fully right itself before 2016. "We have much more work to do," she said.
While the news was not completely unexpected, the vehemence of Ms. Whitman's message drove shareholders to the exits. H.P.'s stock dropped about 8 percent while she was speaking and ended the day at $14.91 a share, down nearly 13 percent on unusually high trading volume. The stock had not been that low in a decade.
The drubbing was probably what Ms. Whitman, the former chief  of eBay, had in mind. Executives involved in her presentation, who requested anonymity because they were not authorized to speak publicly, said she wanted to get as much bad news as possible out at once, so the company could focus on rebuilding rather than having to explain one disappointing quarter after another.
Analysts, while somewhat taken aback by the depth of H.P.'s problems, thought Ms. Whitman had made the right move in putting them out in the open. "In an era where C.E.O.'s watch every word they say, it's refreshing to see complete candor. H.P. is a mess," said Patrick Moorhead, president of Moor Insights and Strategy, who attended the meeting. "It will take five to 10 years to fully take care of this, just the way it took I.B.M. to remake itself. Wall Street doesn't like anything longer than a one- to three-year horizon. It's too much risk for them."
For now, Hewlett-Packard is still the world's leader in sales of personal computers, printers and computer servers, with revenue last year of $127 billion, but it forecast revenue next year of 11 percent to 13 percent below fiscal 2012 levels. Analysts had assumed it would only decrease about 1 percent.
Operating profit margins, which have been about 7 percent, could evaporate completely or, at best, shrink to about 3 percent, the company said. Earnings per share were expected to fall by about 16 percent from what analysts had projected.
The meeting was probably also Ms. Whitman's last chance to blame previous leaders for any of H.P.'s problems. Since 1999, H.P. has had three other chief executives, each with a different vision and operating strategy. All left under duress, leaving a company that leads the industry in revenue but is internally chaotic.
Those problems now belong to Ms. Whitman, who took over almost 13 months ago. She has replaced a number of top executives, and has initiated changes to product development and the company's global marketing and branding. These changes will start to appear next year, but she is clearly impatient to fix more things faster.
"Operational excellence should have become a way of life," she told analysts, but instead, H.P. is hampered by poor internal communications and management systems.
"I've learned at H.P. that you do not get what you expect, you get what you inspect," she said.
Investors may also have been troubled by some of Ms. Whitman's strategy. She intends to shrink the number of products H.P. makes, and to move out of businesses that are in decline.
For example, she said the company made more than 2,100 varieties of laser printers, causing excess costs in everything from parts to packaging requirements.
Printer cartridges were once responsible for over 90 percent of H.P.'s profits, but they face increasing competition from lower-price suppliers. Consumers are also using their printers less because many of the things they used to print routinely, like maps and boarding passes, are on smartphones.
H.P. is reversing its printer strategy in the developing world by selling cheaper cartridges and more expensive printers. In developed economies like the United States, it wants to move to a subscription model in which business customers pay an annual fee, and their Internet-connected printers get new cartridges when the system detects they are low on ink.
Investors could be skittish about plans like these, simply because they are not yet proved. Indeed, H.P. shares fell further as Ms. Whitman's lieutenants laid out the new strategies.
In other areas, there are questions about whether H.P.'s new products can replace, or even surpass, the revenue lost from declining businesses. Cloud computing systems, which consist of thousands of servers sold as a unit, are meant for an increasingly important market. Cloud computing is more efficient than existing systems, however, which means it is likely to lower the overall demand for large numbers of servers.
For all the difficulties she identified, Ms. Whitman may have actually cloaked other long-term problems. The new company she foresees, which she projected would exist by 2016 or so, would probably increase revenue no faster than the overall growth of the global economy. Profit margins would improve from better management, but not necessarily from technological innovations.
The new H.P. would most likely employ fewer workers, as well. Ms. Whitman has already announced a total of 29,000 layoffs. The company had 349,600 employees at the end of last October. She said future profitability would depend in part on more automation, indicating even more job cuts.
While Ms. Whitman said H.P. must focus more closely on its top 14 markets and its main  competitors, a continued low stock price may present other worries. The tech industry is facing a transition from traditional PCs and servers to mobile devices and cloud computing, and is consolidating. H.P. could become a target either for corporate raiders or for another tech company in a hostile takeover.
Article source: http://bits.blogs.nytimes.com/2012/10/03/h-p-stock-drops-as-meg-whitman-speaks/?partner=rss&emc=rss