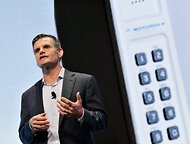 Brendan Mcdermid/ReutersOn Wednesday, Motorola's chief, Dennis Woodside, introduced three smartphones under the Razr brand that will become available for Verizon customers.
After being quiet for nearly a year, Motorola Mobility, recently acquired by Google, is returning to the mobile market with three new smartphones.
At a news conference in New York on Wednesday, the company introduced three smartphones under its Razr brand that will become available for Verizon customers. It said the focus of these phones was speed, because they could connect to Verizon's faster fourth-generation network. And they have larger screens than their primary rival, the Apple iPhone.
Google announced the acquisition of Motorola Mobility in August 2011, and the transaction closed in May. The companies remained mum about their plans until last month, when Motorola announced that it was laying off 4,000 employees, the start of a revamping under its new owner.
During the transition, a Google executive, Dennis Woodside, became Motorola's new leader. In an interview on Tuesday, Mr. Woodside said that the merging of the two companies would take mobile innovation to new heights.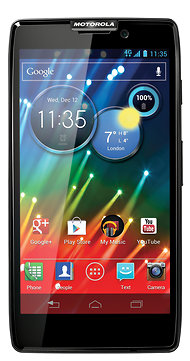 The Droid RAZR HD
"We really have two innovative, deeply technical engineering companies that are coming together," Mr. Woodside said. He said the plan for Motorola was to build excellent products that took advantage of its engineering heritage.
The new phones, the Droid Razr HD, the Razr M and the Razr Maxx HD, have a crucial component that reflects Motorola's legacy as a radio company: the cellular modems inside them, which connect with newer, faster fourth-generation LTE networks, were made by Motorola.
And because Motorola helped develop this radio technology, the company is better equipped with the knowledge to design 4G LTE phones with long battery life, Rick Osterloh, senior vice president of product management at Motorola, said in an interview. The Droid Razr HD, for example, has a 4.7-inch screen with 16 hours of talk time, which is twice as long as many similar phones.
The phones all use Google's Android operating system, raising questions about whether the company will become a legal target for Apple, which recently won against Samsung in one of many patent disputes related to smartphones. Apple accused Samsung of copying several aspects of the iPhone with its Android smartphones.
Mr. Woodside said he was confident Motorola would not face similar problems.
"We've always been pushing the envelope of technology," Mr. Woodside said, referring to Motorola. "It's not a culture that copies things."
The Razr M, which has a 4.3-inch screen, will be released next week for $100 with a two-year contract from Verizon. The company did not reveal prices or release dates for the other two phones.
Article source: http://bits.blogs.nytimes.com/2012/09/05/google-motorola-android-razr/?partner=rss&emc=rss