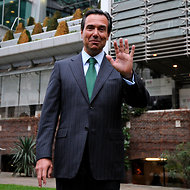 Carl Court/Agence France-Presse — Getty ImagesAntónio Horta-Osório, chief of Lloyds Banking Group.
LONDON – The Lloyds Banking Group said on Thursday that it had set aside an additional £1 billion ($1.6 billion) to compensate clients who were sold insurance inappropriately.
The announcement brings the bank's total compensation provisions to more than £5 billion, and pushed Lloyds into a net loss for the third quarter. The bank is partly owned by the British government after receiving a multibillion-pound bailout during the financial crisis.
The majority of Britain's largest banks, including HSBC, Barclays and Royal Bank of Scotland, have been required to set aside more than a combined £10 billion to compensate clients who were inappropriately sold payment protection insurance, which covered customers if they were laid off or became ill. Many customers did not know they had been sold the insurance when they took out loans or mortgages. Others have found it difficult to make claims on the policies, which often paid out only small amounts.
On Wednesday, Barclays announced it had added £700 million to its previously announced £1.3 billion combined figure to reimburse affected clients.
Barclays, which agreed to a $450 million settlement with British and American authorities in July connected to a rate-rigging scandal, is also facing additional legal scrutiny. On Wednesday, the United States Federal Energy Regulatory Commission recommended a $470 million fine related to past energy trading activities in the bank's American operations. Barclays, which has 30 days to respond to the commission, said it would defend itself against the inquiry.
Lloyds said on Thursday that had a net loss of £361 million in the three months ended Sept. 30, a slight improvement from the £501 million loss in the period a year earlier. Excluding adjustments, Lloyds said its third-quarter pretax profit doubled, to £840 million.
The bank's core Tier 1 ratio, a measure of its ability to weather financial shocks, also rose slightly, to 11.5 percent.
Shares in the Lloyds Banking Group increased 3.5 percent in morning trading in London on Thursday.
Article source: http://dealbook.nytimes.com/2012/11/01/lloyds-hit-by-1-6-billion-insurance-charge/?partner=rss&emc=rss