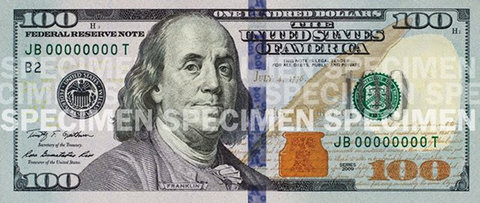 Agence France-Presse — Getty Images The new design for the $100 bill, as provided by the Treasury Department.
It is one of our largest exports, a product made in America from start to finish and craved by businesses and consumers around the world. And the latest edition will be released in October. We speak, of course, about the $100 bill.
The Federal Reserve said Wednesday that it is finally ready to introduce a new design after nearly three years of delays because of printing problems and other issues.
You can see a picture here. Resist the urge to print copies in color.
It may seem odd that the world continues to crave paper. Americans are using fewer bills of all denominations. But as I wrote in 2011, "For two decades, since the fall of the Soviet Union, demand has exploded for the $100 bill, which is hoarded like gold in unstable places. Last year Treasury printed more $100 bills than dollar bills for the first time. There are now more than seven billion pictures of Benjamin Franklin in circulation — and the Federal Reserve's best guess is that two-thirds are held by foreigners. American soldiers searching one of Saddam Hussein's palaces in 2003 found about $650 million in fresh $100 bills."
This is great for the United States. "It's like borrowing money from foreigners that most likely will never have to be paid back, at zero interest," the economist Bruce Bartlett wrote earlier this month.
And the product cannot be made more cheaply in China, or anywhere else.
There is, however, a lively market in knock-offs.
Article source: http://economix.blogs.nytimes.com/2013/04/24/made-in-america-craved-everywhere-else/?partner=rss&emc=rss