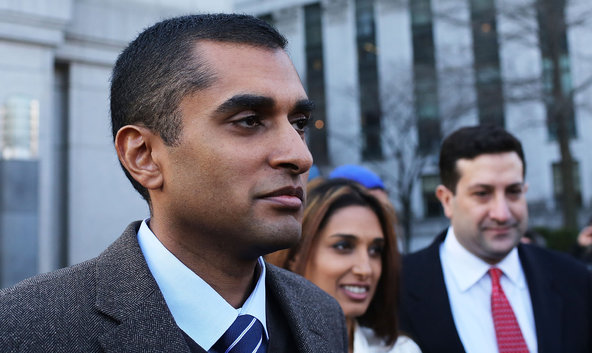 Spencer Platt/Getty ImagesOne of the cases involves a former SAC employee Mathew Martoma, who still faces S.E.C. and criminal charges on trades involving two drug makers.
2:16 p.m. | Updated
Two affiliates of SAC Capital, the giant hedge fund, settled insider trading charges with the Securities and Exchange Commission for $614 million on Friday, in what the agency said was the biggest ever settlement for such cases.
The settlements spare SAC's founder, the billionaire Steven A. Cohen, who hasn't been charged with wrongdoing. Mr. Cohen, one of the most successful hedge fund managers in the world, has long been considered a target of federal investigators.
But the settlements represent one of the biggest financial coups by the S.E.C. in insider trading cases yet. The amounts paid by SAC surpass the $400 million that Michael Milken paid to settle charges by the agency in 1990.
Related Links
One affiliate of SAC, CR Intrinsic, agreed to pay over $600 million over charges tied to one of its employees, who is accused of trading on illicitly obtained confidential information about the drug makers Elan and Wyeth.
That employee, Mathew Martoma, still faces both civil charges from the S.E.C. and criminal charges from the Justice Department.
A lawyer for Mr. Martoma, Charles Stillman of Stillman Friedman, said in a statement: "SAC's business decision to settle with the S.E.C. in no way changes the fact that Mathew Martoma is an innocent man. We will never give up our fight for his vindication."
Hedge Fund Inquiry
The other affiliate, Sigma Capital Management, agreed to pay $14 million to settle charges that it engaged in insider trading in the stocks of Dell and Nvidia.
SAC's management company will pay the settlements, meaning that investors of the hedge fund aren't on the hook.
The settlements, especially that of CR Intrinsic, represent more successes by the federal government in its campaign against insider trading.
"The historic monetary sanctions against CR Intrinsic and its affiliates are sharp warning that the S.E.C. will hold hedge fund advisory firms and their funds accountable when employees break the law to benefit the firm," George S. Canellos, the acting director of the S.E.C.'s enforcement division, said in a statement.
A spokesman for SAC said in a statement, ""We are happy to put the Elan and Dell matters with the S.E.C. behind us. This settlement is a substantial step toward resolving all outstanding regulatory matters and allows the firm to move forward with confidence. We are committed to continuing to maintain a first-rate compliance effort woven into the fabric of the firm."
Article source: http://dealbook.nytimes.com/2013/03/15/sac-settles-insider-trading-cases-for-614-million/?partner=rss&emc=rss