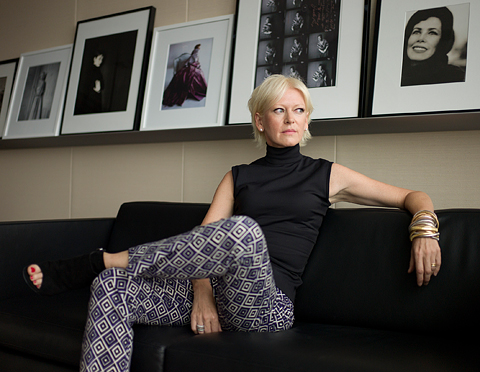 Robert Caplin for The New York TimesJoanna Coles, editor of Marie Claire, who is set to take over Cosmopolitan.
3:16 p.m. | Updated In January, Kate White the editor of Cosmopolitan magazine, went to David Carey, the president of Hearst Magazines, and told him she was thinking about stepping down after 14 years on the job. Given the importance of the franchise to the company, Mr. Carey immediately set about looking for a successor both inside and outside of Hearst.
He found the answer just four floors away: Joanna Coles, the editor of Hearst's Marie Claire magazine.
In six years guiding Marie Claire, the British-born Ms. Coles has improved the visibility of the magazine — once viewed as an also-ran — by taking it upscale and into some rarefied fashion realms. Her profile has risen along with the magazine's, with a growing reputation at fashion shows and a regular position as one of the judges on "Project Runway All Stars."
"The 20s and 30s are incredibly exciting and full of potential, but also a little overwhelming. The things that keep women awake now are the same things that kept women awake 30 years ago."
— Joanna Coles
The appointment, announced Tuesday, installs new leadership at a publication that has evolved from a general interest and literary magazine to an aspirational companion for young women, covering fashion, relationships and, more recently, careers — all with a heavy dose of sexual candor. It was largely transformed in the 1960s when Helen Gurley Brown, who died last month, remade it by latching on to feminism and the sexual revolution.
Since then, it has remained a stalwart of the Hearst brand, managing to gain in circulation in recent years at a time of extreme financial challenges for the magazine business.
Given the youthful audience of Cosmopolitan and the ubiquity of fashion and relationship guidance on the Web, making sure that Cosmo excels in digital realms is a high priority at Hearst.
Ms. Coles said she welcomed that challenge. Sitting in the 42nd-floor offices at Hearst's headquarters on Tuesday morning, dressed in purple, geometric Prada pants, a black preen English top and black Givenchy heels, said she can't wait to get her hands on Cosmo.
"I'm incredibly excited about the global footprint," said Ms. Coles. "It's big because it talks about things that are really important to women. It's such an iconic logo."
There are probably more prestigious magazine franchises to edit, but few have the traction and heft of Cosmo, which advocates a "fun, fearless" approach for young women as if it were the secret to all of life's important questions. Ms. White has worked to modernize Cosmo to fit the times and account for the progress women have made in the business world.
"Cosmo readers are very eager for anything about careers, in part because it is so competitive out there," said Ms. White, an author of eight mystery and thriller novels who is finishing up her fourth work of nonfiction, "I Shouldn't Be Telling You This," an advice book. "Young women have a lot more choices now than they used to and they are anxious about making the right ones."
Ms. White, 61, will remain at Hearst until the end of the year working on some projects with Mr. Carey, but said that she has been itching to spend more time on her books — "I'm looking forward to working just 55 hours a week" she said — and also create a bigger presence on social media in support of her literary work.
The baton Ms. White is handing off is in pretty good shape. Even in a struggling magazine industry where most titles are losing subscribers in droves, Cosmo's circulation has risen steadily over the past four years and peaked in the first half of 2012 with 3,017,834 subscribers, according the Audit Bureau of Circulation. Glamour, a competitor owned by Conde Nast, has a circulation of 2.37 million.
Cosmo's appeal transcends American borders: there are 64 international editions, including Slovenia, Ecuador, and China. The magazine also has kept up with its subscribers as they have moved over to digital media. While digital subscriptions often make up 1 to 2 percent of total magazine readership, Cosmo now has 137,000 paid digital subscribers. It said it attracts 8.5 million unique visitors to its Web site a month. Its 349,156 followers on Twitter and 1.8 million "likes" on Facebook get a steady flow of shopping discounts mixed in with advice like how the right music can make you eat less and 10 tips on surmounting a break up.
Cosmo is built on mixing the practical with the fatuous. An article by the comedian Andy Samberg in the September issue includes "7 Signs He Isn't Relationship-Ready," which advises readers to stay away from men who live with their mothers, are married or are V.I.P.'s at a strip club — unless the reader is a stripper.
Ms. Coles is a former reporter — who are not necessarily prized for their fashion sense — and has worked for both The Guardian and The Times of London. She reported for The Guardian here and then eventually went to work as an editor at New York magazine. She eventually became the executive editor at More, a magazine aimed at women over 40, and now finds herself editing a magazine for women who think middle age is some ancient, distant planet they may travel to one day.
Given the fact that she is 50 years old with two children and a mid-Atlantic accent, Ms. Coles was asked whether she was ready to edit a magazine that is consumed by young, and single, middle Americans.
"I have seen more parts of this country than many people as a reporter for The Guardian here," she said, and adding: "I am not doing this on my own. I will be working with many talented young editors and writers."
Ms. Coles said she wants the often-puzzling journey through one's 20s and 30s to be as fun for readers as it was for her. She said she bought her first apartment at 23 as she began working her way up in the male dominated world of newspapers.
She pointed to the frank talk about sex and careers on shows like HBO's "Girls" and "Two Broke Girls" as an indication that the rest of the culture shares the concerns of Cosmo readers. "The 20s and 30s are incredibly exciting and full of potential, but also a little overwhelming," Ms. Coles said. "The things that keep women awake now are the same things that kept women awake 30 years ago."
On Wednesday, Ms. Coles will travel to the Democratic convention in Charlotte to participate on a panel for Emily's List with the actress Ashley Judd and others, continuing in a very public role that has served her well at Marie Claire. Last December, she and the magazine hosted a private event for the premiere of "In the Land of Blood and Honey" that included a Q A with Angelina Jolie, who directed the film, and the cast.
Ms. Jolie was on the cover of Marie Claire in January, a big seller, and Ms. Coles convinced Mr. Carey and her peers in the company to stream a live chat with Ms. Jolie across multiple Hearst sites, including Marie Claire, Harper's Bazaar, Esquire, Elle, Oprah and Redbook. It was a trifecta of live event, magazine and digital efforts that made a splash and caught Mr. Carey's attention.
Ms. Coles said that when she arrived at Marie Claire she was surprised at how negative many women's magazines were. She said it underscored to her how important it is that Cosmopolitan makes women feel better about themselves.
"For me what's important is to be on the side of women when it comes to sex," she said, and then added, "It's very important to have a sense of humor when you edit a magazine — at Cosmo, it is much raunchier. I have a lot of learning to do. There are 365 sex positions of the day here and one of them is called the linguine."
---
This post has been revised to reflect the following correction:
Correction: September 4, 2012
An earlier version of this article misstated the number of floors separating Joanna Coles's office at Marie Claire magazine from the Cosmopolitan magazine offices at the Hearst headquarters in Manhattan. It is four floors, not two.
Article source: http://mediadecoder.blogs.nytimes.com/2012/09/04/new-editor-at-cosmopolitan-joanna-coles-replaces-kate-white/?partner=rss&emc=rss